• Ryan Nienaber • fishwife • monkfish • monkfish recipes
    Monkfish Curry A delicious flavour infused curry. Ingredients 750g monkfish tail meat 2 tsp tumeric 2 limes 2 tsp curry powder 2 Tbsp crushed garlic salt & pepper to taste 1 Tbsp coconut oil (or olive oil) 1 large onion (finely chopped) 1 tsp mustard seeds 1 tsp cumin seeds 1 Tbsp dried curry leaves 1 Tbsp lime leaves 1 Tbsp grated ginger 1 Tbsp chopped green chilli 1 tin whole peeled tomatoes in juice 1 tin coconut milk 1 Tbsp tamarind paste 2 Tbsp fresh coriander Instructions Monkfish has one bone in the middle with flesh on...
---
• Ryan Nienaber • crayfish • fishwife
Crayfish is best done simply, so as you will see from my recipe this is extremely easy to do, yet oh so satisfying! If you don't want to put them over the coals, you can eliminate this step and just boil them in a big pot, they are equally as enjoyable to eat, just minus the delicious smokey flavour and the addition of the garlic butter.  Crayfish on the Braai Ingredients Crayfish (as many as you please) Boiling water Salt Butter Garlic Instructions Add the crayfish to a large pot, snapping the feelers off first. (Breaking off the feelers will...
---
• Ryan Nienaber • fishwife • octopus • octopus recipes • seafood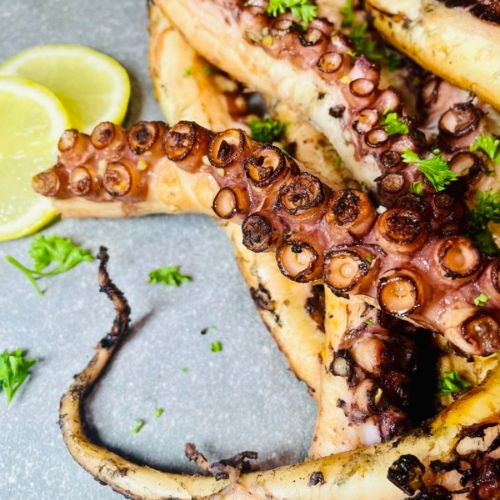 Easy Octopus Braai Ingredients 1 Greenfish Octopus Olive Oil Crushed Garlic 1 Lemon Salt & Pepper Fresh Parsley Instructions Place the octopus in a pot on the stove and cover with water. Bring to the boil and boil for 45 minutes. Remove the octopus from the pot and place into a dish, drizzle with olive oil, add some crushed garlic and a crack of salt & pepper. Allow to marinade and cool down for at least an hour. Once marinaded, cut the legs apart to make 8 easy strips to braai. Place back in the marinade until ready to...
---
• Ryan Nienaber • fishwife • prawns • prawns recipes • seafood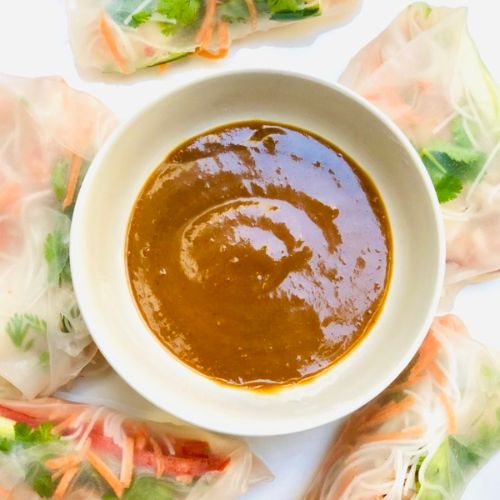 I love how fresh and light these spring rolls are.  Filled with healthy ingredients, yet extremely moreish! I could eat them every day!   Vietnamese Spring Rolls Fresh, healthy and delicious! Ingredients Prawns Vermicelli Rice noodles Cucumber Carrot Red Pepper Coriander Rice Paper Wraps Hoison Sauce Peanut Butter Instructions Blanch the prawns in a pot of boiling water for approximately 3 minutes. Remove and set aside to cool. In a bowl, cover the rice noodles with boiling water and allow to soften for about 2 minutes before straining and setting aside. Julienne the carrot, cucumber and red pepper and set...
---
• Ryan Nienaber • fishwife • fresh fish • kingklip
This recipe is pretty much the same as my very first recipe ever posted, "The Easiest Grilled Kingklip". It still seems to be a fan favourite with readers constantly confirming that it is just that: EASY! Not only super simple, but delicious and juicy too.   For those of you who love soles, baby Kingklip will be a favourite too. It pulls straight off the bone and melts in your mouth! "The Easiest" Grilled Baby Kingklip Prep Time 5 min Cook Time 15 min Total Time 20 min Ingredients Fresh Baby Kingklip Fillets (skin off, bone in). Butter. Crushed Garlic....