Crayfish Tails |Frozen Box | Wild Caught | x12
Regular price
R649
R0
Unit price
per
SECURE
CHECKOUT
via PayFast
SAME DAY
DELIVERY
order by 11am
100%
SATISFIED
or full refund
About

THE ICONIC WEST COAST FAVOURITE

The west coast rock lobster is endemic to the west coast of South Africa and is a truly iconic seafood favourite all along the coast. Whether they are steamed, grilled or braaied there is no denying their deliciousness. Unfortunately, this coupled with the longevity and slow growth of the species has led to severe overfishing which has depleted the population. That is why we only source our crayfish from licensed cray fisherman who comply with the stringent harvesting restrictions imposed on this delicious crustacean.

CONTENT

12 x Crayfish tails

Each unit is 65-90g (Ave Box size +-850g)

Instructions

Your crayfish will arrive frozen, simply store in your freezer (up to 3 months) and use at your leisure. It is best to remove product from packaging to defrost, simply place on a tray in your fridge and allow to thaw slowly.

Eco rating

The west coast rock lobster populations are currently under pressure and we only source ours from licensed fishermen who harvest legally against strict quotas and size limits that have been issued by the department of fisheries. They are also offloaded under the watchful eye of the departments inspectors they weigh and record all stock harvested. The style of harvest by ring nets/traps is very selective and has almost no by catch and causes little to no damage on bottom habitats.

ECOSYSTEM IMPACT :

Medium

GEAR USED :

Ring net

SUPPORTING LOCALS :

Yes

DISTANCE TRAVELLED :

100km

DOLPHIN / TURTLE IMPACT :

None

REPRODUCTION POTENTIAL :

Medium

Fishwife Recipes

Braaied Crayfish Tails with Butter

Crayfish is very easy to prepare on the braai, usually only needing a bit of butter, but this recipe adds three flavoured butters to the mix. You will need:

8 Greenfish Crayfish Tails
250g butter, melted.
2 anchovies, chopped
handful black olives, chopped.
handful fresh mixed soft herbs (mint, basil and parsley).
1 garlic clove, peeled and crushed.
large pinch saffron.
large pinch chilli flakes/fresh chilli, sliced.

Preparation:

Fire up the braai and get it to a medium heat.
Half crayfish tails lengthways and remove the veins.
Rinse under cold water and pat dry.
Brush each crayfish or tail with a little melted butter.
Divide the remaining butter into 3 small dishes.
Add the anchovies and olives to 1 dish, the herbs and garlic to another, and the saffron and chili to the remaining dish.
Mix and allow the butters to stand for a short while for the flavours to infuse (keep in a warm spot so they don't solidify).
Grill the tails on the braai for 5 – 6 minutes. Serve immediately and drizzle with the butters.

Delivery

R65 same-day packaging & delivery fee

 CBD | Southern Suburbs | Houtbay | Plattekloof 

 Deep South | Table View, Blouberg, Melkbos | Durbanville 

 Stellenbosch | Somerset West | Franschhoek | Paarl 




All zoned areas: Monday to Friday

Order before 11am and receive your delivery the same day.

Order after 11am and receive your delivery the following delivery day.

Please note we do not deliver on Saturday, Sunday and Public holidays

We are working hard to extend our range. If you live outside our current delivery range but think there is significant demand in your area, please contact us.

 
Customer Reviews
Write a Review
Ask a Question
27/09/2021
Rickus

South Africa
Crayfish tails
Same day delivery. Perfect packaging resulting in "freshly caught" taste. Thank you Greenfish for providing option to us desperately looking for sustainable seafood options.
11/09/2021
Mark A.

South Africa
WOW Factor
My first dealing with these guys , unbelievable , prompt, friendly and lovely crayfish tails that were well presented and packaged. Don't waste your time and shopping around, well done!
05/09/2021
Per O.

South Africa
Convenient and Tasty!
Really nicely packed in a Styrofoam box that keep the tails separate from all other stuff in the freezer! And they taste great as well :)
11/08/2021
Pieter d.

South Africa
Crayfish Tails
Ordered before 11h00 and delivered at 14h00. Haven't cooked them yet. The tails are a bit small, maybe go for larger ones.
24/07/2021
Judy W.

South Africa
Crayfish tails and oysters
Both delicious and will definitely order again!
28/02/2021
Dee C.

South Africa
Above Excellent!
What a pleasure to deal with such a fantastic company! Excellent service on every front, informative, friendly and willing to go the extra mile, quite literally! The crayfish was sweet, firm and delicious. Thank you Ryan and your team, it is an absolute pleasure supporting you!
23/02/2021
Nathan W.

South Africa
23/02/2021
Jasmin

South Africa
Citrus Prawn Salad with an Orange Honey Mustard reduction dressing
Fantastic !!! My Prawn Tails Box arrived right on time, professionally packaged and fresh, ready to be magically transformed into a Citrus Prawn Salad. This formed the starter for a 5 course meal I cooked for 9 family members. Here's what they had to say: The Prawn Salad was a delicious summer boquette of flavours with orange infused prawns. The salad was crisp, fresh and appetizing. The prawns were fantastic and really did have a special citrus flavour Well rounded salad, flavours of orange reduction came through nicely, creating a fresh flavour Beautifully infused sauce sprang in the mouth from the orange infused prawns, epicurean delight, delicate and dainty. The citrus went all the way through the prawn. I have never had anything like it. it was amazing. The slices of orange were delicious, as well as the dressing You could taste the orange though the prawn, which gave the salad a very fresh and unforgettable taste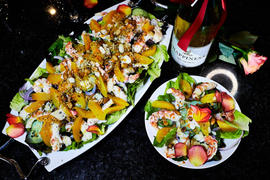 23/02/2021
Jasmin

South Africa
Crayfish Bisque
Fantastic !!! My Crayfish Tails Box arrived right on time, professionally packaged and fresh, ready to be magically transformed into a Crayfish Bisque. This formed the starter for a 5 course meal I cooked for 9 family members. Here's what they had to say: - The Crayfish Bisque was mouth-wateringly fresh, a perfect balance of sour and salty with generous chunks of Crayfish pieces. - A complex and subtle flavour. Delicious layers and flavours of the sea. Creamy, beautifully textured crayfish in a sublime blend of the sea. Five Stars - The Crayfish Bisque was a complex dish with a beautiful collection of flavours. - Bisque, all flavours came together well, crayfish succulent, a perfect combination. - Bisque ! Well ! After the Lord Mayors show - A taste to live for, please make it again soon. This dish was the best ever (not even in a 5 start restaurant) - This was so good, I don't even eat lobster or fish but I ate this because it was so splendid. The crayfish was so soft. A union of fresh, fruity sweetness and a touch of sea and spices. The creamy Crayfish Bisque was melting in my mouth, the taste was perfectly balanced.
21/02/2021
Karen D.

South Africa
Best ever lobster tails
Sublime in every way.
14/02/2021
Dawid D.

South Africa
Great easy lunch
We just tossed them on the braai and back on plates in minutes! Tasty healthy happy!
10/02/2021
Samantha G.

South Africa
Fast and Fresh
I ordered mid-morning and just after midday my delivery arrived and everything was very well packaged and delivered safely, I will 100% be using this service again!
03/02/2021
Colin M.

South Africa
Great Service and product
New to Greenfish but our recent order will just be the first of many. The Kob was beautifully packed and filleted and was delicious being so fresh. The West Coast Rock Lobster was also well packed and delivered still frozen hard and we will be trying that out in teh next few days. I have no hesitation in recommending Greenfish as a really good supplier with an efficient order and delivery system.
02/02/2021
Louis d.

South Africa
Crayfish Tail Box
Crayfish obviously is within specifications. Would prefer an option to buy Bigger tails. Excellent experience when using Greenfish. Quick delivery even when living outside normal delivery area.
31/01/2021
zaheera a.

South Africa
31/01/2021
Selvan N.

South Africa
29/01/2021
Marguerite W.

South Africa
How to make a West Coast Girl HAPPY!!!
Just handover Greenfish's details! Like a very rich girl, I had 12 sublime oysters for Breakfast no less! Greenfish delivered them on a bed of ice - For a moment I felt like I was starring in Legacy!!! The salmon is just perfect, beautifully packaged & a staple on my new Keto inspired diet! I spend every holiday of my life in Strandfontein, where I grew up on fresh lobster. I can't wait to have my lobster tails, winderfully presented, packed neatly & delivered to my door in less than 2 hours! Greenfish gives me hope for SA, they understand client service and presentabiliry to a tee. Many thanks, Greenfish guys & Jackie - you made me feel so spoiled in these dire times!
05/01/2021
Lorraine S.

South Africa
Fresh from the ocean
These crayfish tails tasted like they had just been caught. I defrosted them overnight in the fridge and them steamed them for a couple of mins - delicious with homemade Mayo
05/01/2021
Deon I.

South Africa
Crayfish two ways
I ordered two cases of crayfish tails and was delighted with the trouble free online booking and payment system. The delivery was prompt and the product beautifully packaged. Even travelling some two hours into the country with the two polystyrene boxes just in a cooler bag, they remained perfectly cold and showed no signs of having thawed even slightly when opened that evening. We had them two ways: on the first evening, just steamed and cooled to room temperature and served with artichoke hearts with mayonnaise and aioli; and the next evening lightly braaied over the coals. Both delicious. The flesh was firm and succulent and of apparent export quality. Heartily recommended.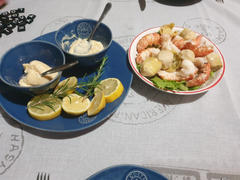 05/01/2021
Lerina B.

South Africa