Squid Lover Box (3x 900g packs)
Regular price
R549
R0
Unit price
per
Content
This Squid box features frozen clean baby squid tubes and heads carefully selected for you to enjoy with your family or friends.
Cleaned squid tubes and heads (3 x packs 

~900

g

 each total 2.7kg in your box)
This box is ideal for any squid lover to add some variety into their week day cooking. We have taken care of the mess, you look after the rest. Your fish will arrive in individually vacuum packs, to make it easy to use at home.  

Instructions:
Your box will arrive frozen, simply store in your freezer (up to 3 months) and use at your leisure. It is best to remove product from packaging to defrost (do not thaw under vacuum/pressure), simply place on a tray in your fridge and allow to thaw slowly. 

For easy recipes and more information on how to prepare the fish, please visit our partner site fishwife.co.za
Notes/Special Requests:
When you check out there is a section for notes, here you can tell us if you have any special requests for the cutting of your fish.  This is also a great place to tell us if your door bell does not work or any other info you want to share with us to streamline getting you the freshest fish in town to your door quickly.
Sustainability
https://www.iucnredlist.org/species/163139/976082

http://wwfsassi.co.za/fish-detail/174/
Delivery:
R65 same-day packaging & delivery fee
 CBD | Southern Suburbs | Houtbay | Platterkloof 



Delivery: Monday to Friday

Order before 11am and receive your delivery the same day.

Order after 11am and receive your delivery the following day.
 Deep South | Tableview, Blouberg, Melkbos | Durbanville 



Delivery: Monday to Friday
Order before 3pm and receive your delivery the following day.

Order after 3pm and receive your delivery the next delivery run. (Mon - Fri).
 Stellenbosch | Somerset West | Franshoek | Paarl 



Delivery: Tuesday to Friday
Order before 3pm and receive your delivery the following day.

Order after 3pm and receive your delivery the next delivery run. (Tue - Fri).
We are working hard to extend our range. If you live outside our current delivery range but think there is significant demand in your area, please contact us.
*Please note we do not deliver on Saturday, Sunday and Public holidays.
*We endeavour for same day delivery where possible.
Customer Reviews
Write a Review
Ask a Question
12/01/2021
Craig
South Africa
13/12/2020
Lucinda B.
South Africa
Squid lover box
The squid was divine. Solid portion
09/12/2020
Sam S.
South Africa
Above and beyond
Exceeded my expectations by miles. From my panicked, 'I need it today' phone call where I was gently taken through the online purchasing process (dead eady) to delivery at my home less than 90 minutes later. I am beyond impressed and completely delighted. Oh and the squid was exceptional too.
18/11/2020
Ann D.
South Africa
It was nice and fresh and well packed with a variety of calamari.
10/11/2020
Dion V.
South Africa
Amazing quality
Absolutely love everything about the app
02/10/2020
Jack
South Africa
Squid Box
We ordered before 11am and received delivery the same day. The packs are easy to thaw in some warm water and contain a good portion of of tubes and heads, probably enough in each pack for 3 to 4 Adults as a main. The calamari turned out great and we can't wait to cook the next pack. Some of the tubes contained a bit of sand but that was easily washed out before cooking.
03/09/2020
Songah L.
South Africa
Great!!
The squid was so good. Thanks.
22/08/2020
Cindy A.
South Africa
Squid lover box
Excellent ,quick delivery as order placed before 11am,customed packed the order ,was excellent to cook & great quality,will order regularly
08/07/2020
Debbie D.
South Africa
Squid Lovers Box
This box is amazing - even I can make calamari now. Thanks also to The Fish Wife for the tips and recipes on how to cook it. My family keep asking when I am making again.
10/06/2020
Fay F.
South Africa
Incredible quality
The oysters were delicious, nice and firm and great flavour. The baby quid was incredibly soft and tender. The tuna was fresh and tasty - I didn't bother cooking it as it was so fresh I used it in ceviche and sashimi.
26/05/2020
Helen B.
South Africa
Squid Lovers box
First purchase from Green Fish, Great experience. Only challenge with the Squid is for domestic use, that's quite a lot of squid to use in one go, not worried about the overall box size just could be 6 bags rather than 3. We will be back, Tuna looks stunning, looking forward to supper tonight!!!
26/05/2020
Theresa R.
South Africa
Sqiud lovers box
I was extremely impressed with how delishes the squid was. One packet easily fed 4 adults.
03/05/2020
Catherine K.
South Africa
Generous portion size, great quality
Having missed squid a tonne during lockdown, I ordered this box to satisfy a craving - which it did AND MORE. There were three grown adults and we couldn't finish a single portion of delicious pan grilled squid and chorizo - not for want of trying. Heartily recommend - but if you think you won't finish it one go, save it for sharing :)
01/05/2020
Brad H.
South Africa
Succulent Seared Scallops
I ordered a scallop lovers box and it was delivered within 3 hours. Could not believe the quality of the scallops. Made a beautiful burnt sage butter pasta, seared the scallops in lemon butter, and honestly it's one of the best meals I've eaten. The scallops were sweet and juicy, pretty much tasted as if they were not frozen. Beautiful. Very impressed with the overall experience with Greenfish!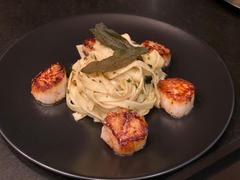 30/04/2020
Delphine
South Africa
Fantastic service and quality
We have actually tried two different fish delivery companies at the same time, each of them offering different items that we wanted, and different delivery fee (we live in Wellington, not Cape Town...) We were extremely (and positively of course!) surprised to see Greenfish deliver on a Public holiday Monday after 18.00, when we ordered on Friday night. We cooked the first pack of 900g squids tonight (Thursday following delivery) and our 4,5 yo son finished his plate, asked for some more, and eventually finished his 2,5 yo bother's plate... We have about 200g left in the pan for hubby and me tonight (because the boys enjoyed it so much if needs to be clarified), but I promise that we will enjoy every bit of it. We have already passed our second order. Congratulations, guys, keep on going. This Coronavirus is bad, but if it can help family businesses like yours booming, then we are happy :-) The Seafood Lovers from Wellington
28/04/2020
Lara F.
South Africa
Squid lover box
Great service and product.
20/04/2020
Katy M.
South Africa
Great squid, nicely packaged
I will be using Greenfish again, great and easy online process and great tuna and squid!
15/04/2020
James G.
South Africa
Outstanding!!
Really excellent quality! Delivered quickly, professionally , vacuum packed and on ice!!
02/04/2020
Robert R.
South Africa