Scallop Lover Box | Wild Caught
Regular price
R449
R0
Unit price
per
Content
This Scallop box features cleaned frozen scallops, ready to cook for you to indulge in
Cleaned large scallop meat (1 x pack 900g)
This box is ideal for any scallop lover to add some variety into their week day cooking. We have taken care of the mess, you look after the rest.  Each scallop is +-20-40g 

Instructions:
Your box will arrive frozen, simply store in your freezer (up to 3 months) and use at your leisure. It is best to remove product from packaging to defrost (do not thaw under vacuum/pressure), simply place on a tray in your fridge and allow to thaw slowly. 

For easy recipes and more information on how to prepare the fish, please visit our partner site fishwife.co.za
Notes/Special Requests:
When you check out there is a section for notes, here you can tell us if you have any special requests for the cutting of your fish.  This is also a great place to tell us if your door bell does not work or any other info you want to share with us to streamline getting you the freshest fish in town to your door quickly.
Sustainability
These come from an MSC approved fishery
Delivery:
R50.00 for all zoned areas 
CBD | Southern Suburbs | Houtbay | Plattekloof 

Delivery: Monday to Friday (Same Day Delivery)

Order before 11am and receive your delivery the same day.

Order after 11am and receive your delivery the following day.
Deep South | Tableview | Blouberg | Melkbos | Durbanville | Stellenbosch | Somerset West | Franschhoek | Paarl | Surroundings
Delivery: Monday | Tuesday to Friday
Order before 3pm and receive your delivery the following day.
  https://greenfish.co.za/pages/where-we-deliver, 
 *Please note we do not deliver on Saturday, Sunday and Public holidays.
 *We endeavour for same day delivery where possible.
Customer Reviews
Write a Review
Ask a Question
03/11/2020
Patricia K.
South Africa
Awsome scallops
Very high quality, tasty scallops, thank you!
22/10/2020
Joop P.
South Africa
Delivery
All the fish (boxes) were absolutely in good order. The frozen part well frozen
CW
22/10/2020
Cara W.
South Africa
Beautiful scallops
The Scallop Lover Box is fantastic. I have always loved scallops, but they are difficult to buy in Cape Town. Now Greenfish makes then easily available with a same-day delivery possible. They arrive cleaned and frozen, which is convenient. The quality of the defrosted scallops is very good. They are beautiful and delicious. As with the quality with everything I have purchased from Greenfish, I am completely satisfied.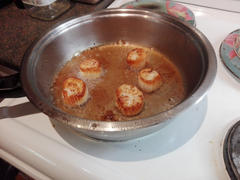 17/10/2020
Brian H.
South Africa
Great produce
From sign up to delivery i was super impressed all the way. Fast, efficient serviced, professionally packed and top quality produce.
GG
13/10/2020
Georges G.
South Africa
Scallop
One word " PERFECT " !
07/10/2020
Robert K.
South Africa
Excellent scallops world class
Great quality. Easy to cook with cauliflower noodles, tomatoes and pine nuts with a chili and garlic flavoring.
08/09/2020
Jon W.
South Africa
Very happy
Good sized and well cut. arrived well packed and frozen. Very happy with the purchase
05/09/2020
Sally P.
South Africa
Scallops
Freshly frozen and delicious as always.
23/06/2020
Catherine S.
South Africa
Amazing Service
Great service, speedy delivey, good portion size and excellent packaging. Cold chain maintained.
10/06/2020
Bradley C.
South Africa
awesome scallops
fresh and really good
01/06/2020
Wilmien L.
South Africa
Excellent !!
Was amazing.. will definitely order again.
30/05/2020
James M.
South Africa
Scallops
Scallops are generally hard to come by. I ordered these and they were delivered a few hours later. I defrosted them in the fridge and then pan fried them briefly in a hot pan, finished with a squeeze of fresh lemon, and served them with a beurre noisette, crushed new potatoes with butter and parsley, and ratatouille. What a delight: gorgeous texture - creamy yet firm and delicate, and the flavour! Fresh and unctuous, you would never have believed they'd been frozen, and taste of the deep sea. I'll be back..
26/05/2020
PIerre D.
South Africa
Additional orders
Hi Ryan. Since those orders we placed, we placed an additional order. Delivered yesterday. 1x Cob 1x Kingklip 1x Yellowtail. Still the best Ryan. Green Fish have a customer for life: In 3 weeks over 3 grand well spent. Tight lines Pierre Driver 0824463860. Shot Cuz.
14/05/2020
Micjelle K.
South Africa
14/05/2020
Luanne G.
South Africa
Scallop Lover Box
Great service, super speedy and the scallops were delicious!!
11/05/2020
inna c.
South Africa
Scallops
Very good. Many thanks.
07/05/2020
Inez C.
South Africa
Scallop Lover Box
I am loving this service This is our second box The fish is fresh clean and ready to eat Thanks guys awesome service
02/05/2020
Patricia K.
South Africa
Awesome scallops!
Well we only ate 4 of them between the two of us (they are THAT big as announced) and they were lovely! The others are waiting in the freezer.
25/04/2020
Gys L.
South Africa
Fast efficient delivery of FRESH fish !
So glad I saw you ad on Instagram! Prepared lovely Tuna Sashimi immediately and it melted in our mouths. That was prepared from "The Tuna Sushi Block ". The Scallops will be for later this week.
17/04/2020
Andrew J.
South Africa