Live box | Large Fresh Oysters (x12) | Farmed on the West Coast
Regular price
R199
R0
Unit price
per
Content
This Live Box  features a dozen Large Fresh Oysters.  These locally grown large oysters arrive at your door fresh and tasty.  You get the same great taste of the ocean with out taking an oyster from the sea.  We have carefully selected this for you to enjoy with your family or friends.
12 x Large Oysters ( +_76-90g per oyster)
This box is ideal for any oyster lover to add some variety into their week day dinning. We have taken care of the mess, you look after the rest. Your oysters will arrive closed inside a polybox, to make it easy to use at home.  If you would like them opened please leave us a NOTE when you check out.
Instructions:
Your box will arrive fresh, simply store in your fridge  and use at your leisure (up to 2 days).  
http://fishwife.co.za/5-minute-oysters/


For easy recipes and more information on how to prepare the fish, please visit our partner site fishwife.co.za 

Notes/Special Requests:
When you check out there is a section for notes, here you can tell us if you have any special requests for the cutting of your fish.  This is also a great place to tell us if your door bell does not work or any other info you want to share with us to streamline getting you the freshest fish in town to your door quickly.
Sustainability
Farm raised oysters.

Delivery:
R50.00 for all zoned areas 
CBD | Southern Suburbs | Houtbay | Plattekloof 

Delivery: Monday to Friday (Same Day Delivery)

Order before 11am and receive your delivery the same day.

Order after 11am and receive your delivery the following day.
Deep South | Tableview | Blouberg | Melkbos | Durbanville | Stellenbosch | Somerset West | Franschhoek | Paarl | Surroundings
Delivery: Monday | Tuesday to Friday
Order before 3pm and receive your delivery the following day.
  https://greenfish.co.za/pages/where-we-deliver, 
Customer Reviews
19/09/2020
Lee G.
South Africa
Live, fresh, and icy cold
They arrived packed on ice, were used soon, and were fresh and delicious. I should have ordered more. Great service!
18/09/2020
Hendrik H.
South Africa
13/09/2020
Paul E.
South Africa
Service was Excellent Delivery on time Your product Fresh .Recommendation for Oysters lovers .Call on Green Fish
12/09/2020
Ric C.
South Africa
Greatness
really fresh, cant wait to order more......
12/09/2020
Paul E.
South Africa
I would recommend any Oysters Lover to try you .As my Experience are delightful. I say Express my happiness with your product. Your service was Excellent .Delivery was on time .
10/09/2020
Christina T.
South Africa
Large Fresh Oysters
The most delicious Oysters by far! Highly recommend Greenfish ! Incredible service. Amazing packaging! Happy me
08/09/2020
Sophie G.
South Africa
Happy customer.
It was so good. We actually phoned Ryan to thank him with such good seafood. Will order very soon.
07/09/2020
Guy
South Africa
Oysters as good as Willoughby's!!
Got the Oysters twice in the last two weeks and they have been excellent on both occasions. I am from Jo'burg so didn't have an oyster knife which was a bit of a mission to acquire but I managed to find one in Woodstock. May I suggest Greenfish make a deal with Banks Kitchenware to add an option of these none expensive Oyster knife to your basket when ordering Oysters. 65 bucks Oyster knife plus a Youtube video on how to shuck an oyster and you good to go..
05/09/2020
Leanne v.
South Africa
Fabulous fresh oysters
The oysters were fresh and delicious, and the presentation was top class. Can't fault the service either, delivery was right on time as promised. An awesome experience!
31/08/2020
Phillip S.
South Africa
Amazing oysters
Perfectly packaged. Beautiful fresh oysters and friendly delivery to doorstep
23/08/2020
Glenda C.
South Africa
Bad oysters
Two of the twelve fresh live oysters were open and therefore dead and not edible.
Good Day Glenda, thank you for taking the time to review us. I also received an email from your husband, Noland regarding this matter of the 2 oysters. Some back ground: We receive oysters from the farm twice a week and keep them in a special tank that is serviced and maintained by an oyster specialist. Your box of oysters was packed at 11h33. When we pack oysters any that may be open are discarded (its very seldom that they die). So a perfect box departs here every-time. Your box departed our factory at 12h02, arrived at Lotus Rd at 12h44 and our vehicle left your place at 12h47. Your husband said that this delivery was to kennelworth center, however I can confirm this was not the case, and it was delivered to your house, someone working in your home received the stock. We did try call you today to discuss, however your phone was off. We made contact with your husband and he gave us some context to this matter. He said the delivery was done at between 3-4pm, and that 2 oysters where rotten and smelling. As unfortunately from the time of delivery until consumption the product is not in our control I am not in a position to say what had happened then. I am confident that all was delivered in order. If I had to surmise, I would guess that two died in that time, however been packaged and on ice, Im not sure how they would have attracted that smell in that short time frame. We endeavour to deliver a great product and fresh and as quickly as possible. I apologies you have had a poor experience, but if you look at our track record you will see this is not the norm. Please find attached promo code for 2 oysters. (R16.58x2) regards Ryan
06/08/2020
Simone H.
South Africa
Fantastic quality and service
Amazing fresh oysters! We loved it.
30/07/2020
Sue R.
South Africa
Beyond expectation!!
The service and produce of Greenfish is absolutely fantastic. We rate this company 5 stars without a doubt. We are situated 70 kilometers from Cape Town and receiving an order of fresh seafood on the same day of the order is amazing. Friendly and professional customer experience. Thank you Greenfish. We are hooked!
26/07/2020
Maylene M.
South Africa
2nd order but not my last
It is such a pleasure to order from green fish! Prompt delivery , clean boxes ,fresh, no mess and no fuss..not to forget affordable! The break was so good on the braai and the fresh oysters cleaned but a simple shucking and we were good to go with our pre dinner sundowner treats ... thank you !
25/07/2020
Caroline M.
South Africa
26/06/2020
Richard B.
South Africa
Delicious and very fresh!
A great experience! Learnt to shuck my own oysters but they were superb served well chilled! Kabeljou excellent!
10/06/2020
Candyce B.
South Africa
Large Oysters
Absolutely delicious, quite big inside. I just had an issue because they came close (I did not read properly before ordering) however i made a plan with the nearest restuarant to open them for me. I'd advise requesting them to be shucked as a prior delivery note. Quick delivery, fresh and delicious!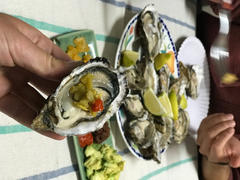 26/05/2020
Kiroshan N.
South Africa
22/05/2020
Shaun G.
South Africa
Oysters
They were delicious speedy delivery...will order soon again thank you
20/05/2020
Anita B.
South Africa
Delicious fresh oysters
The oysters were delicious!