Abalone (perlemoen) | Live Box | Cultivated | x6
Regular price
R499
R0
Unit price
per
SECURE
CHECKOUT
via PayFast
SAME DAY
DELIVERY
order by 11am
100%
SATISFIED
or full refund
About

A RARE BOUNTY OF FLAVOUR

Known for its buttery, salty taste, and slightly chewy texture (in a good way, think calamari steaks) abalone is a highly sought-after seafood. This desirability has led to populations being severely depleted, and as recently as 2010 Abalone was listed as an endangered species with demand from the far east and invader species depleting the populations on the South African coastline. While still targeted by poaching syndicates and highly regulated by the government and watchdogs, the growth of aquaculture has meant that more and more South Africans have been able to try this delicacy. Abalone takes about a decade to reach a harvestable age and this slow growth contributes to the pressure on the population. All our abalone is sustainably sourced from farms in Hermanus.

CONTENTS

6 x Whole Abalone with Shell (approx. 90 - 110g per abalone)

Instructions

Your box will arrive fresh, simply store in your fridge, and use at your leisure (up to 2 days).

Eco rating

The only sustainable way to source abalone is through aquaculture, and abalone should never be purchased from other sources. Our abalone comes from farms in Hermanus which use recirculating tanks to grow this rare sea snail. The feed used consists mostly of seaweed and is also sustainably sourced, while seaweed cultures are used to help purify the circulating water

ECOSYSTEM IMPACT :

Very low

GEAR USED :

Aquaculture

SUPPORTING LOCALS :

Yes

DISTANCE TRAVELLED :

100km

DOLPHIN / TURTLE IMPACT :

None

REPRODUCTION POTENTIAL :

Very high

Fishwife Recipes

Abalone in Panko Crumbs

Because of regulations and scarcity, many may wonder how to prepare this delicacy, luckily The Fishwife is here with a serving suggestion. You will need:

6 fresh abalone
1/2 cup flour
2 tsp salt
1 tsp pepper
1.5 cups panko crumbs
1 egg
50g butter
1 Tbsp olive oil

Preparation:

Clean abalone with a vegetable brush thoroughly to remove any black residue.
Pat dry with paper towel.
Slice abalone into thin rounds (I managed to get about 2-3 slices from each abalone).
Using a meat mallet, pound the abalone until tender.
Mix flour, salt and pepper together in a bowl.
Dip abalone slices into the flour mixture, coating evenly and set aside in a separate dish.
Beat the egg in a bowl and set aside.
Pour the panko crumbs into a bowl and set aside.
Dip the flour coated abalone into the egg mixture and then into the panko crumb mixture and place coated pieces into a separate bowl for frying later.
Heat the butter and olive oil in a pan on a high heat and wait until its bubbling.
Fry the panko coated abalone slices in the pan for 2-3 minutes a side until nice and golden.
Remove from the pan and place on paper towel to absorb any excess oil.
Serve with pink sauce (2 Tbsp Mayo, 1 Tbsp Tomato Sauce, 1 Tbsp Sweet Chilli Sauce, 1 Tbsp Chutney)

Delivery

R65 same-day packaging & delivery fee

 CBD | Southern Suburbs | Houtbay | Plattekloof 

 Deep South | Table View, Blouberg, Melkbos | Durbanville 

 Stellenbosch | Somerset West | Franschhoek | Paarl 




All zoned areas: Monday to Friday

Order before 11am and receive your delivery the same day.

Order after 11am and receive your delivery the following delivery day.

Please note we do not deliver on Saturday, Sunday and Public holidays

We are working hard to extend our range. If you live outside our current delivery range but think there is significant demand in your area, please contact us.

 
Customer Reviews
Write a Review
Ask a Question
26/12/2021
Cheryl A.

South Africa
Abalone
Excellent quality. Fresh and a good size for the price.
15/12/2021
Shuaib S.

South Africa
Abalone
Product is always fresh and service is really good. The abalone however was smaller this time round compared to the first time I bought. But overall it's really good!!
13/12/2021
Georgia E.

South Africa
Pearler Perlemoen!
I've been wanting too try perlemoen for ages but what with their surrounding controversy, it seemed impossible. Enter Greenfish with farmed abalone, cultivated along our very own coastline. For a first-timer, the perlemoen were manageably sized and after some online research I was able to easily prep them for my recipe. 10/10 would recommend this beautiful univalve to any seafood-lover!
12/10/2021
Ashley K.

South Africa
Top quality
Excellent quality and impressive service thank you
26/07/2021
Hennie

South Africa
By far one of the best foodservice providers in SA!!!
Ryan!!! By far one of the best foodservice providers in SA!!!
24/07/2021
Nadine M.

South Africa
Brilliant
Super quick delivery Quality was magic Will recommend any day
18/06/2021
Justin F.

South Africa
First time using Greenfish
Excellent value for money. Freshest produce. Great service I'm hooked
04/06/2021
Steve M.

South Africa
30/03/2021
Shuaib S.

South Africa
Greenfish
Excellent... had the abalone last night...absolutely fantastic...well packaged for delivery!!!will definitely purchase from them again
24/03/2021
Melissa S.

South Africa
Live Box Abalone
Great taste and quality! Delivery was spot on. Not to mention it was still alive... It reminded me of when my brother used to dive back in the day. Yummy....
09/03/2021
Caitlin K.

South Africa
Abalone Live Box
The experience was brilliant from placing the order to receiving the box of Abalone. it was perfectly shelled and cleaned as requested and extremely well packaged. I even tried to order again but the product was out of stock. Its been a pleasure to deal with you guys.
04/03/2021
Dee C.

South Africa
23/02/2021
Jasmin

South Africa
Southern Fried Abalone
Fantastic !!! Abalone Box arrived right on time, professionally packaged and fresh, ready to be magically transformed into an American style Southern Fried Abalone, a dish I made up. My abalone, was my first time working with this absolutely devine creature from the farmed sea I tenderized it using the back of a metal spoon in the bag they came in. Was very handy with such great quality packaging. I used egg wash and then dusted them with my southern fried chicken flour mixture, which was absolutely the perfect choice. I fried without giving them too much bother just flipping them once on each side. I topped them with a lemon ailoi and zested lemon. They were so tender you could use your fork to cut them and fresh flavours of the abalone came through, the sauce enhanced. Ill be definitely making these most delicious treats again
15/02/2021
Brendon L.

South Africa
Delish from Greenfish!
It's been close on 20 years since I last tasted the unique delicacy of abalone but thanks to Greenfish, I was able to relive that amazing experience with great friends out from Denmark, my mother, sister, my wife and kids. Thanks for taking me back to some amazingly happy memories, and knowing I'll be ordering again, back to the future too.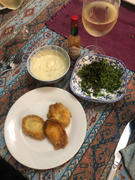 06/02/2021
Steyn N.

South Africa
Abalone
Followed instructions perfectly
19/01/2021
Cameron W.

South Africa
Excellent service and seafood
Service speed freshness all excellent
17/01/2021
Aneesa F.

South Africa
Baby Abalone, yellowtail and mussels
Best experience from ordering (amazing customer service) to deliver (super fast) My order arrived beautifully packed and so convenient Everything was so fresh and snacked of the sea Thank you so much @greenfish, you guys are the best!!! Def recommending you guys to everyone
08/01/2021
NICOLE A.

South Africa
Abalone
It was delicious, just expected it to be a bit larger.
30/12/2020
Cara

South Africa
22/12/2020
Gail

South Africa
Commendation
Thank you so much for the excellent service and the Fresh and delicious abalone.