Monk Fish Tails | x2 | Frozen box | Caught off Cape Point
Regular price
R399
R0
Unit price
per
SECURE
CHECKOUT
via PayFast
SAME DAY
DELIVERY
order by 11am
100%
SATISFIED
or full refund
About

Monk tail is well know as a mock crayfish, its delicate flavours and hardy texture make it great in a curry or simply on its own. They have been locally caught by fishermen departing from Cape Town harbour, fishing in the cool deep waters of the Atlantic Ocean off Cape Point. We have carefully selected for you to enjoy with your family or friends.

CONTENT

2 x clean frozen monk fish tail on the bone ( +_1.9-2.2kg per box)

Instructions

Your clean Monkfish tails will arrive frozen, simply store in your freezer (up to 3 months) and use at your leisure. It is best to remove product from packaging to defrost, simply place on a tray in your fridge and allow to thaw slowly.

Any special requests or instructions can be left in the NOTES section at the Checkout. Eg: Your doorbell does not work, you require a phone call before the order arrives, you would like the fillets / steaks vacuum packed seperately or cut into smaller portions etc.

Eco rating

ECOSYSTEM IMPACT :

Medium

GEAR USED :

Demersal longline

SUPPORTING LOCALS :

Yes

DISTANCE TRAVELLED :

50km

DOLPHIN / TURTLE IMPACT :

Low

REPRODUCTION POTENTIAL :

Medium

Fishwife Recipes

Monkfish tail

You will need:

4 Monkfish tails
50g butter
juice of 1 lemon
400g flat mushrooms, stalks removed, caps thinly sliced
200g chestnut mushrooms, stalks removed, caps thinly sliced
sea salt and freshly ground black pepper

Sauce

2 tbsp vegetable oil
3 shallots, peeled and sliced
1 garlic clove, sliced
100ml Maderia wine
375ml good-quality chicken stock
1/4 bunch of thyme, tied with a string
10g dried porcini mushrooms
50ml double cream

Preparation:

Preheat the oven to 150C
For the sauce, heat half of the vegetable oil in a medium saucepan over medium heat. When hot, add the shallots, garlic and a pinch each of sea salt and pepper and cook for about 7 minutes until soft. Add the Madeira and simmer for 5-7 minutes until it has a syrupy consistency, then add the stock, thyme and dried porcini mushrooms and summer gently for 30 minutes.
Remove the thyme stalks and transfer the sauce to a blender or food processor. Blitz until smooth, pass through a fine sieve into a clean saucepan and add the cream. Keep warm until ready to serve.
While the sauce is simmering, heat the butter over high heat in a frying pan large enough to fit the monkfish tails. Once it's foaming, season the monkfish liberally with salt, then place into the hot butter. Brown the tails all over for about 5 minutes in total, then transfer to a roasting dish. Pour the butter over the top and place in the oven for 25 minutes.
Turn the tails over and cook for a further 25 minutes. Remove from the oven, cover with foil and leave to rest for 10 minutes. Turn the heat on the oven up to 220C. Squeeze the lemon juice over the monkfish and place back in the oven for 8 minutes.
Meanwhile, heat the remaining tablespoon of vegetable oil in a separate large frying pan. When hot, add the mushrooms, season well and cook over high heat for about 10 minutes (you might have to do this in batches, depending on the size of your pan).
Carve the monkfish either by using a serrated knife, and cutting across the bone, or by slicing down either side of the bone and portion accordingly. Serve the fillets atop the mushrooms and smother with the sauce.

Delivery

R65 same-day packaging & delivery fee

 CBD | Southern Suburbs | Houtbay | Plattekloof 

 Deep South | Table View, Blouberg, Melkbos | Durbanville 

 Stellenbosch | Somerset West | Franschhoek | Paarl 




All zoned areas: Monday to Friday

Order before 11am and receive your delivery the same day.

Order after 11am and receive your delivery the following delivery day.

Please note we do not deliver on Saturday, Sunday and Public holidays
Re-delivery fee may apply if delivery cannot be taken between delivery times (14:00 - 17:00) without any prior arrangement and a delivery was attempted. Email [email protected] or call 063 666 2802

We are working hard to extend our range. If you live outside our current delivery range but think there is significant demand in your area, please contact us.

 
Customer Reviews
Write a Review
Ask a Question
23/02/2022
Frederick B.

South Africa
Your fish is always excellent
You are the best supplier of fish in CT that we have come across. Great selection. Wild caught. Fresh tasting. Well packed and prompt delivery.
18/01/2022
ANNIE B.

South Africa
5/5
5/5 monk fish tails x4 frozen box caught off cape point
08/01/2022
Bruce

South Africa
Excellent quality product and amazing service
Amazing response time to me placing my order. Fresh product, like it was just caught topped with the best service. Will definitely be shopping again soon.
07/01/2022
Frederick B.

South Africa
First Purchase from Greenfish
This was our first purchase from Greenfish, being less than satisfied with some other purveyors. I was very happy with the quality of the fish as well as packaging and delivery time frame (next day). Looking forward to some great cuisine.
01/01/2022
Wenda G.

South Africa
Monk Fish Tails
Absolutely excellent service and SO happy with the monk fish. Best quality I've ordered so far. I will not order from any other supplier again. Thank you so much for the speedy delivery!
31/12/2021
Ronald R.

South Africa
18/12/2021
Astrid L.

South Africa
Fresh, meaty fish
Very meaty fish, have tried various ways of making it, covered in bacon is defintely a winner. Absolutely lovely
27/10/2021
Mo K.

South Africa
Beautiful Monkfish Tails
Thank you so much Greenfish for the delivery yesterday. The service, the delivery and of course, the monkfish were all wonderful. I actually have some tails currently marinating, ready for a late afternoon lunch. Thank you for the brilliant service, beautiful fish and for making all this fresh seafood, caught locally available to us.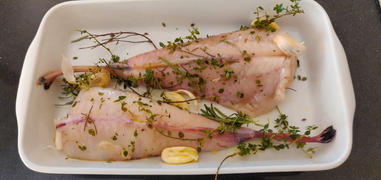 05/10/2021
Lothar E.

South Africa
Monkfish tails frozen
Dear Ryan, I love monkfish and could not get it anywhere around Stellenbosch. Then I saw your advertisement - halleluja!!! I prepare it in several ways, you can even make a ceviche - because the meat is nutty, fresh!! Just take the skin off and you get beautiful filets. The internet is full of recipes and I am so thankful that I got it ( I think I bought eight in the meantime)at your company. All the fish in my last order looks good and was delivered by a friendly young man in no time after ordering. I do not mind frozen fish as we live in Stellenbosch and we do not buy things everyday. Will you have crayfish tales again, just the tales? Kind regards The chef of the family Ursula Ehrhardt
27/09/2021
Nicky T.

South Africa
Monk fish tails
Absolutely delish!!
24/09/2021
Deborah B.

South Africa
Monkfish Goan curry
Used this together with a few prawns to make a superb curry. Had only previously used fresh monkfish, but I found no different, just required a gentle cook once the curry sauce had been made. It was superb, will definitely buy again
17/09/2021
Lothar E.

South Africa
Great!
Delivery was actually immediately, friendly, Monadisch ans prawns are excellent - will do it again!
17/09/2021
Lothar E.

South Africa
Great!
Delivery was actually immediately, friendly, Monadisch ans prawns are excellent - will do it again!
07/09/2021
Richard d.

South Africa
Delicious fish and great service
Excellent! I will buy fish again from you. Very happy to support you - thanks for the great product and service.
20/08/2021
Elaine J.

South Africa
Amazing
Have been waiting for Monkfish tails and am not disappointed..they are delicious and as always the service is fantastic. Love my local Fishmonger
27/07/2021
Tony C.

South Africa
Awesome
I have bought several items from Greenfish over the past 9 months or so and I have never been disappointed. This time it was the Monk Fish tails and Octopus, the Octopus (first time I have had it) was larger than expected (half a Kraken if I am not mistaken) done the Fish Wife way and was delicious. The Monk Fish I cut into chunks, wrapped in pancetta, put on a skewer and then on the braai and just a squeeze of lemon, it needs nothing else as it is so good.
25/07/2021
Susie

South Africa
monkfish proved to be the perfect birthday lunch
The monkfish proved to be the perfect birthday lunch. Cooked as per the fishwife instructions and served on a bed of mushroom risotto (rather than the cream based sauce, due to dairy intolerant guest) it was a huge success. Light and tasty with the langoustine bisque and a bottle of Moet…who could ask for more? Wonderful produce and service…thank you Greenfish Team
06/01/2021
Pieter V.

South Africa
Absolutely delicious
Perfectly cleaned and frozen and delivered the next day as promised. Needed nothing more than to be thawed and then used directly in a delicious monkfish thermidor recipe. I'll be back for more!
06/01/2021
Richard F.

South Africa
AMAZING
What an amazing product, taste is out of this world.