Fresh box | Yellowtail Fillets | Caught in Struisbaai
Regular price
R299
R0
Unit price
per
Content
This catch of the day features 2 yellowtail fillets this yellowtail has been locally and sustainably caught by our artisanal handline fisherman, one hook, one line, one fish at a time.  We have carefully selected for you to enjoy with your family or friends.
2 xYellowtail Fillets ( +_900g-1100g per fillet )
This box is ideal for any fish lover to add some variety into their week day cooking or on the braai. We have taken care of the mess, you look after the rest. Your fish will arrive in individual vacuum packs, to make it easy to use at home.  
Instructions:
Your box will arrive fresh, simply store in your fridge  and use at your leisure (up to 5 days).  For home freezing, freeze on the day of arrival, and use within 3 months.  Yellowtail flesh colour may change colour from a light white to light brown once frozen (this is normal).
http://fishwife.co.za/smoky-yellowtail-braai/


For easy recipes and more information on how to prepare the fish, please visit our partner site fishwife.co.za 

Notes/Special Requests:
When you check out there is a section for notes, here you can tell us if you have any special requests for the cutting of your fish.  This is also a great place to tell us if your door bell does not work or any other info you want to share with us to streamline getting you the freshest fish in town to your door quickly.
Sustainability
http://wwfsassi.co.za/fish-detail/113/
Delivery:
R65 same-day packaging & delivery fee
 CBD | Southern Suburbs | Houtbay | Platterkloof 



Delivery: Monday to Friday

Order before 11am and receive your delivery the same day.

Order after 11am and receive your delivery the following day.
 Deep South | Tableview, Blouberg, Melkbos | Durbanville 



Delivery: Monday to Friday
Order before 3pm and receive your delivery the following day.

Order after 3pm and receive your delivery the next delivery run. (Mon - Fri).
 Stellenbosch | Somerset West | Franshoek | Paarl 



Delivery: Tuesday to Friday
Order before 3pm and receive your delivery the following day.

Order after 3pm and receive your delivery the next delivery run. (Tue - Fri).
We are working hard to extend our range. If you live outside our current delivery range but think there is significant demand in your area, please contact us.
*Please note we do not deliver on Saturday, Sunday and Public holidays.
*We endeavour for same day delivery where possible.
Customer Reviews
Write a Review
Ask a Question
21/01/2021
Nicola I.

South Africa
simply delicious
outstanding- placed my order in the morning, and beautiful fresh fish delivered at my doorstep in the afternoon. Effortless.
18/01/2021
Alison B.

South Africa
Tuna steaks and yellow tail fillets
Found the Tuna steaks to be fresh, well packed ,no moisture when opened and very tender to eat after only pan seared . The yellow tail fillets wrapped in foil and cooked over a braai and also very fresh and good taste with firm. I am very impressed as a fisherman for many years and preparing fresh fish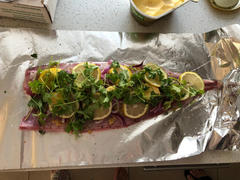 16/01/2021
SP L.

South Africa
Yellowtail
I used to catch yellowtail from my boat in Struisbaai myself and I must say that the fish you delivered was just as fresh Well done and thank you
14/01/2021
Abida R.

South Africa
Excellent quality and super fresh, same day delivery. I have bought yellowtail on numerous occasions. Very versatile fish to cook, I have grilled, pan fried with a dusting of spiced flour, cooked fish curry and fish breyani. Delicious
14/01/2021
Nicky A.

South Africa
Yellowtail fillets
Excellent - We braaied the first fillet and will be having the second fillet tomorrow - Can't wait. The other items we ordered we haven't tried yet but are looking forward to the meals!
12/01/2021
Wesley P.

South Africa
Excellent Service
Delivery was better than expected and the fish was bigger than I imagined. Will make sure to use you guys in the future.
07/01/2021
Christine T.

South Africa
Yellow tail
My first taste was delicious, I could smell the sea! I look forward to the rest in due course. I made 14 cuts out of the 2 fillets.
07/01/2021
catherine B.

South Africa
Brilliant value. Excellent quality and service
Fresh, delicious and brilliant service. Excellent value
07/01/2021
John W.

South Africa
04/01/2021
Richard I.

South Africa
Fantastic yellowtail
Really good and tasty fish, excellent delivery and packaging to keep the product fresh.
03/01/2021
Alison C.

South Africa
03/01/2021
Gerald S.

South Africa
Christmas Eve Braai.Yellowtail and crayfish tail
The best fish we ever had.So fresh and knowing where it comes from makes it all worth it. Will not buy my fish anywhere else.
01/01/2021
Jonathan S.

South Africa
First Feast of 2021
Amazing fresh fish and great service!
01/01/2021
Jenna F.

South Africa
31/12/2020
Beryl F.

South Africa
Yellow tail
Service and delivery was excellent. This is the way to go 2021 ! Fish was professionally packed and oh so fresh ! Thank you !
31/12/2020
Ramsay M.

South Africa
Tamarind yellowtail curry
Prepared a tamarind based north indian curry, the firmness and the flavor of the yellowtail makes this dish an absolute winner!
30/12/2020
Pieter V.

South Africa
Super fresh and tasty
Amazing product. Arrived the day after I ordered it, packed with an ice pack, super fresh and perfectly cleaned and boned. I'm definitely ordering again!!!
26/12/2020
Abida R.

South Africa
Yellowtail fillets
Fresh fish, good quality. Cooked fish breyani with one portion, tasted even better the next day. Other portion I froze for another meal.
25/12/2020
Therese W.

South Africa
Yellowtale on the fire for Christmas
In the middle of Covid we had to move to Capetown from Gauteng. After 2020 family had to come down here, we needed to see each other The day before they arived I've heard about Greenfish from a friend. Overwhelmed with joy after their arrival. We all decided that 2020 was not a normal year, and after all alwe where at the sea, and we must have fish for our Christmas table. I've first went and snooping around your Fb and Web pages. Everything looked so nice and well priced. Everyone decided that Yellowtale was the fish we had to had. I subscribed for the news letter and saw I can get 10% of my fist purchase. Yeah awesome, but to my surprise, when I went on the site to order, from Fb page, I was so lucky to get 2 great portioned Yellowtale fillets for 50% off. Awesome!! Made the order, made the payment and the next day it was delivered straight to my doorstep, fresh. My husband found a nice recipe, which he altered a little bit. He made it on the braai, because thats what South Africans do, we braai. It was the most delicious fish we ever had. Our Christmas feast was delicious. I will recommend you to everyone I know, and I will definitely buy fish from you again. Thank you Greenfish for being on our Christmas table.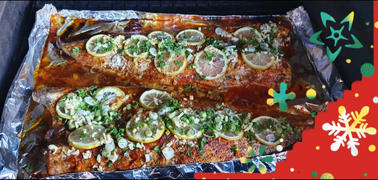 25/12/2020
Alten H.

South Africa