Fresh box Combo | Tuna Steaks & Yellowtail
Regular price
R549
R0
Unit price
per
Content
This catch of the day features Yellowfin Tuna Steaks and Yellowtail Fillets.  This fish has been locally and sustainably caught by our Pole/Line fisherman, one hook, one line, one fish at a time.  We have carefully selected for you to enjoy with your family or friends.
2x Yellowfin Tuna Steaks ( ~800g-950g per box ) (enough to serve 4)
2 xYellowtail Fillets (~1800g-2200g per box ) (enough to serve 4)
This box is ideal for any fish lover to add some variety into their week day cooking or on the braai. We have taken care of the mess, you look after the rest. Your fish will arrive in individual vacuum packs, to make it easy to use at home.  
Instructions:
Your box will arrive fresh, simply store in your fridge  and use at your leisure (up to 5 days).  For home freezing, freeze on the day of arrival, and use within 3 months.  Yellowfin tuna flesh colour may change colour from a light pink to light brown once frozen (this is normal).
http://fishwife.co.za/yellowfin-tuna-steaks-on-the-braai/

http://fishwife.co.za/smoky-yellowtail-braai/

For easy recipes and more information on how to prepare the fish, please visit our partner site fishwife.co.za 

Notes/Special Requests:
When you check out there is a section for notes, here you can tell us if you have any special requests for the cutting of your fish.  This is also a great place to tell us if your door bell does not work or any other info you want to share with us to streamline getting you the freshest fish in town to your door quickly.
Sustainability
http://wwfsassi.co.za/fish-detail/112/
http://wwfsassi.co.za/fish-detail/113/
Delivery:
R50.00 for all zoned areas 
CBD | Southern Suburbs | Houtbay | Plattekloof 

Delivery: Monday to Friday (Same Day Delivery)

Order before 11am and receive your delivery the same day.

Order after 11am and receive your delivery the following day.
Deep South | Tableview | Blouberg | Melkbos | Durbanville | Stellenbosch | Somerset West | Franschhoek | Paarl | Surroundings
Delivery: Monday | Tuesday to Friday
Order before 3pm and receive your delivery the following day.
  https://greenfish.co.za/pages/where-we-deliver, 
Customer Reviews
26/06/2020
Jackie H.
South Africa
12/06/2020
Daniella L.
South Africa
Delicious fresh fish
Incredible experience. Delivery prompt. Awesome packaging, fish is super fresh. Very excited to have a braai this weekend with the delicious product. Thank you
11/06/2020
Sue H.
South Africa
Yellowtail and Tuna Combo
Really great - fast delivery superb quality fish - made sweet potato fish cake with the yellowtail and seared the tuna and served this with pesto roasted vegetables.
10/06/2020
David B.
South Africa
Fresh Box Combo, Tuna Steaks & Yellowtail
The Tuna was beautiful! The Yellowtail went into the freezer. Overall a great experience.
08/06/2020
Jacques l.
South Africa
Fresh to your door!
Well packaged, fresh and great quality.
05/06/2020
yvette k.
South Africa
LOVED IT
We ate the Yellowtail last night and my six year old daughter declared it 'her favourite fish ever". Your service was amazing. Thanks so much.
05/06/2020
Willem B.
South Africa
Excellent
Very impressed. Will make use of you on a regular basis. Very neatly packaged en very fresh looking and tasting fish.
29/05/2020
Stephen M.
South Africa
Top Class!
Excellent service! Excellent quality!
19/05/2020
Storm G.
South Africa
Deliciously fresh!
I couldn't recommend this box more, the fish was so fresh and delivered 3 hours after I ordered. Well packaged and generous portions.
JV
12/05/2020
Jaqi V.
South Africa
Amazing freshness and service
I was excited to place my order for my husband's birthday dinner, but was not expecting such exceptional quality, excellent packaging and amazing personalised service (including keeping my order aside and ensuring that I receive a fresh order on the requested day). I will definitely be a regular going forward. Thank you GreenFish team!
11/05/2020
Richard F.
South Africa
Yellowtail and tuna fillets
Very very tasty
07/05/2020
Chris F.
South Africa
Fast delivery and great quality fish
We were blown away with same-day delivery of the fish and the Tuna was amazing! The fish was succulent and super tasty. We will be ordering again!
07/05/2020
Craig B.
South Africa
Tuna more than a treat
Delivery was same day by a very courteous Green Fish team member. The tuna was superb, a real treat. Yellowtail not yet tried but packaging of products is also great so resting safely in my freezer. Well done guys, I am a first time customer that will now be a regular- keep going!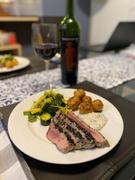 07/05/2020
Garth R.
South Africa
Great Service
These guys are great. Gave an order in the morning and received the freshest Tuna ever the same afternoon. Honestly the best service I have ever received along with a first class product. Well done greenfish team!
07/05/2020
Glenda C.
South Africa
A little worried
I was a little disappointed in how long my order took to arrive at my door. According to the tracking site my package collected at 8:15 am. We only received delivery stroud 3 pm. At this time the ice pack had already melted and left me wondering if my fish had been refrigerated for all those hours . The fish, however was very good. Really enjoyed the fish will order again, but would like to have evidence that my order was refrigerated during transit
06/05/2020
Nici F.
South Africa
Feedback
Excellent and very happy! Beautiful fresh fish. Will definitely order again.
05/05/2020
Heike K.
South Africa
Fresh box Combo
Top Quality !!!
04/05/2020
Louise S.
South Africa
Fresh Tuna yellowtail combo prize!
Super excited to win this combo.. Very efficient service, with excellent packaging. Taste superb Will definitely be ordering more soon
03/05/2020
Kennaird B.
South Africa
02/05/2020
Dennis V.
South Africa
An overall" First World" experience.
An overall" First World" experience.