Fresh box | Silver Fish | Caught in Struisbaai
Regular price
R199
R0
Unit price
per
Content
This catch of the day features 2 whole silverfish (carpenter).  These fish has been locally and sustainably caught by our artisanal handline fisherman, one hook, one line, one fish at a time.  We have carefully selected for you to enjoy with your family or friends.
2 x Whole Silver Fish ( +_1000g-1500g per fish )
when you check out, in the notes section: tell us how you want us to cut and prepare it for you (whole, scales off, gutted, filleted, sliced on the bone) 
This box is ideal for any fish lover to add some variety into their week day cooking or on the braai. We have taken care of the mess, you look after the rest. Your fish will arrive in individual vacuum packs, to make it easy to use at home.  
Instructions:
Your box will arrive fresh, simply store in your fridge  and use at your leisure (up to 5 days).  For home freezing, freeze on the day of arrival, and use within 3 months. 
http://fishwife.co.za/crispy-skinned-fish/
For easy recipes and more information on how to prepare the fish, please visit our partner site fishwife.co.za 

Notes/Special Requests:
When you check out there is a section for notes, here you can tell us if you have any special requests for the cutting of your fish.  This is also a great place to tell us if your door bell does not work or any other info you want to share with us to streamline getting you the freshest fish in town to your door quickly.
Sustainability
http://wwfsassi.co.za/fish-detail/35/

"Linefishing, South Africa - Traditional linefishing uses rod and reel or handline equipment operated from small skiboats and deckboats. Linefishing is a relatively selective fishing method with few impacts on the marine environment and little incidental bycatch." SASSI webpage
Delivery:
R50.00 for all zoned areas 
CBD | Southern Suburbs | Houtbay | Plattekloof 

Delivery: Monday to Friday (Same Day Delivery)

Order before 11am and receive your delivery the same day.

Order after 11am and receive your delivery the following day.
Deep South | Tableview | Blouberg | Melkbos | Durbanville | Stellenbosch | Somerset West | Franschhoek | Paarl | Surroundings
Delivery: Monday | Tuesday to Friday
Order before 3pm and receive your delivery the following day.
  https://greenfish.co.za/pages/where-we-deliver, 
Customer Reviews
31/07/2020
Rikesh H.
South Africa
Fantastically Fresh as always
Absolutely fresh and large. Good value for money
24/07/2020
Servaas D.
South Africa
Silverfish
10/10 i ordered at 14:00 and on the braai at 18;00 same day. Fish was great thank you
26/06/2020
Rikesh H.
South Africa
Amazingly fresh and packaged well
The fish arrived neatly packed and vacuum sealed. It was amazingly fresh. Although I requested to have it cut into pieces with the bone intact, it came filleted. Nevertheless I will try and give clearer instructions the next time. I made a fish curry nevertheless (which I why I wanted bone intact as it keeps the fish from falling apart). I used the fillets which still turned out beautiful as it was very fresh. Will definitely buy again, but will emphasize how I need it prepared.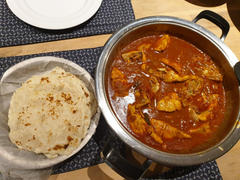 18/06/2020
Mary M.
South Africa
03/06/2020
Abida R.
South Africa
Silverfish
Lip-smacking good. Shared with my sister who hasn't had fresh fish since lockdown started. Excellent quality.
03/06/2020
Megan H.
South Africa
Amazing Silver Fish
Amazing as always !
03/06/2020
Abida R.
South Africa
Silverfish
Lip-smacking good. Shared with my sister who hasn't had fresh fish since lockdown started. Excellent quality.
30/05/2020
Natasha P.
South Africa
Silverfish
The first time we ever tried this fish, amazing is all I can say. Ordered filleted and whole fish so had the best of both. Our fish was delivered before I even go the email that my fish was sent. Awesome service, thank you, Ryan. The only thing, please could you link or provide basic recipe ideas for the fish on your site or package. Having never had this fish before, I battled to find ideas on the internet until one site in particular. Thank you for two outstanding meals and your service. Regards, Natasha.
27/04/2020
Omar M.
South Africa
Excellent service and product
Been dying for some fresh fish that isn't the usual frozen shop stuff. The silverfish was ordered in the afternoon and was delivered with a smile and a laugh later in the afternoon. Even in my neck of the woods. I would highly recommend and I'm definitely going to be using them again!