Fresh box | Kobeljou Fillets | Caught in Struisbaai
Regular price
R399
R0
Unit price
per
Content
This catch of the day features 2 Kob fillets.  This kob has been locally and sustainably caught by our artisanal handline fisherman, one hook, one line, one fish at a time.  We have carefully selected for you to enjoy with your family or friends.
2 x Kob Fillets ( +_900g-1200g per box )
This box is ideal for any fish lover to add some variety into their week day cooking or on the braai. We have taken care of the mess, you look after the rest. Your fish will arrive in individual vacuum packs, to make it easy to use at home.  
Instructions:
Your box will arrive fresh, simply store in your fridge  and use at your leisure (up to 5 days).  For home freezing, freeze on the day of arrival, and use within 3 months.  Yellowtail flesh colour may change colour from a light white to light brown once frozen (this is normal).
http://fishwife.co.za/parmesan-crumbed-kob/

For easy recipes and more information on how to prepare the fish, please visit our partner site fishwife.co.za 

Notes/Special Requests:
When you check out there is a section for notes, here you can tell us if you have any special requests for the cutting of your fish.  This is also a great place to tell us if your door bell does not work or any other info you want to share with us to streamline getting you the freshest fish in town to your door quickly.
Sustainability
http://wwfsassi.co.za/fish-detail/57/

"Linefishing - Silver kob are caught using traditional linefishing methods. Linefishery operates from small ski- and deck boats using a rod and reel or handline... Linefishing is a relatively selective fishing method with few impacts on the marine environment and very little accidental bycatch." SASSI webpage
Delivery:
R50.00 for all zoned areas 
CBD | Southern Suburbs | Houtbay | Plattekloof 

Delivery: Monday to Friday (Same Day Delivery)

Order before 11am and receive your delivery the same day.

Order after 11am and receive your delivery the following day.
Deep South | Tableview | Blouberg | Melkbos | Durbanville | Stellenbosch | Somerset West | Franschhoek | Paarl | Surroundings
Delivery: Monday | Tuesday to Friday
Order before 3pm and receive your delivery the following day.
  https://greenfish.co.za/pages/where-we-deliver, 
Customer Reviews
16/07/2020
Tony L.
South Africa
Kabeljou
good enough to make cerviche
15/07/2020
melanie W.
South Africa
Freshest Fish Ever
Always incredible! Best fish ever…. : )
09/07/2020
Nanette V.
South Africa
Beautiful fillets!
Beautiful fillets. Perfect and fresh! Ultimate spoil! Made a lovely Marinara...
03/07/2020
Catherine S.
South Africa
Clean, fresh fish
Well packaged and great tasting fish. Very well cleaned and a nice portion size.
01/07/2020
Merle H.
South Africa
KC
12/06/2020
Karen C.
South Africa
Beautiful!
Kobeljou was my first order, immediately followed by sword fish. Both were fabulous! It is such a treat to have access to fresh, wild caught, restaurant-quality fish. Please do not stop your home-based delivery service. You have a customer for life!
11/06/2020
David P.
South Africa
Struisbaai Kobeljou
Once again fantastic service and product. Keep up the great work.
04/06/2020
Glenda G.
South Africa
Kobeljou fillets
Super fresh and as good as expected :)
30/05/2020
Georgia E.
South Africa
My first Silver Kob
Previously having only supplied the restaurant industry, Greenfish now delivers their responsibly-caught catch of local fish directly to your door. Best of all they deliver to areas outside of the City Bowl too, meaning that folks over in Bloubergstrand (like me!) can enjoy fresh fish too. Arriving packaged neatly in a watertight bag with ice packs to keep the fish cold, my Kob was bright-eyed and sea-scented. Exactly how one wants fish to be.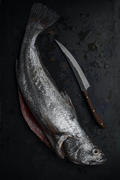 Fresh and Amazing
Fish arrived fresh, fillets was perfect, clean and pristine! Wonderful service! Best tasting fresh fish- at home!
28/05/2020
Stewart B.
South Africa
Stewart & Kob
Excellent - I ordered in the afternoon, the fish arrived in a cold box first thing in the morning. Very well packed & filleted, and the fish was excellent - very fresh, very delicious!
26/05/2020
Fiona L.
South Africa
Kabeljou fillets
Will definitely order this product again! Family loved the freshness of the fish, delivery time was very well executed. Well done brilliant concept.
21/05/2020
Jani G.
South Africa
excellent
Next day delivery was smooth and the kabbeljou was fresh and delicious! Felt like summer! Will definitely order from Greenfish again!
18/05/2020
Gillian H.
South Africa
Super fresh kob
Delicious incredibly fresh fish. Will definitely purchase again
17/05/2020
john M.
South Africa
KOBLICIOUS ***
WOW So Fresh Tasty straight off the Hook to the Plate after on the Braii *** KOBLICIOUS TGIF Ordered Friday at 9 30am at my gate 1 30pm GREENFISH our absolutely amazing ***
16/05/2020
Alberto C.
South Africa
Super fresh and clean product.
Easy process from buying to getting product delivery in just a few hours. Great experience and top quality
16/05/2020
Heike K.
South Africa
Kobeljou Fillets
Super service! Very good quality!
15/05/2020
Hetta G.
South Africa
Delicious kob fillet and very good service
This is the second time I ordered fish from Greenfish. I could not be more happy with the product and the service that I received.
15/05/2020
Theo P.
South Africa
Quality and convenience
The fish was delivered on time, deliciously fresh and well packaged. When busy being prepared, it was a bit disappointing to find some scales on the meat - surely if the pricing is in the same range as local retail, the same care needs to go into cleaning and filleting? Anyhow, we loved the cob and will be regulars from now on. Thank you Ryan and team!
14/05/2020
David P.
South Africa
Struisbaai Kobeljou
Excellent service and excellent product! Thank you, we will be back for more.