Greenfish Box | Duo
Regular price
R549
R0
Unit price
per
Content
This fish box features 6 different fish carefully selected, prepared and frozen for you to enjoy with your family or friends.
Swordfish (2 x steaks)
Kingklip (2 x portions or 1 x Fillet)
Yellowtail (2 x portions)
Sea Bass (1 x fillet

~

360-400g)
Hake 

(2 x portions

 or 1 x Fillet

)
Butterfish (2 x portions)


This box is ideal for any fish lover to add some variety into their week day cooking. We have taken care of the mess, you look after the rest. Your fish will arrive in individual vacuum packs, to make it easy to use at home.  

Instructions:
Your box will arrive frozen, simply store in your freezer (up to 3 months) and use at your leisure. It is best to remove product from packaging to defrost (do not thaw under vacuum/pressure), simply place on a tray in your fridge and allow to thaw slowly. 

For easy recipes and more information on how to prepare the fish, please visit our partner site fishwife.co.za

Notes/Special Requests:
When you check out there is a section for notes, here you can tell us if you have any special requests for the cutting of your fish.  This is also a great place to tell us if your door bell does not work or any other info you want to share with us to streamline getting you the freshest fish in town to your door quickly.
Delivery:
R65 same-day packaging & delivery fee
 CBD | Southern Suburbs | Houtbay | Platterkloof 



Delivery: Monday to Friday

Order before 11am and receive your delivery the same day.

Order after 11am and receive your delivery the following day.
 Deep South | Tableview, Blouberg, Melkbos | Durbanville 



Delivery: Monday to Friday
Order before 3pm and receive your delivery the following day.

Order after 3pm and receive your delivery the next delivery run. (Mon - Fri).
 Stellenbosch | Somerset West | Franshoek | Paarl 



Delivery: Tuesday to Friday
Order before 3pm and receive your delivery the following day.

Order after 3pm and receive your delivery the next delivery run. (Tue - Fri).
We are working hard to extend our range. If you live outside our current delivery range but think there is significant demand in your area, please contact us.
*Please note we do not deliver on Saturday, Sunday and Public holidays.
*We endeavour for same day delivery where possible.
Customer Reviews
Write a Review
Ask a Question
02/03/2021
MARK D.

South Africa
Great will only use Green fish in future
27/02/2021
Erica D.

South Africa
Amazing service!
Ordered 3 different boxes and received within 3 hours! Freshest, tastiest fish in the Southern suburbs.
AT
24/02/2021
Alexa T.

South Africa
I can never go back now
Truly amazing. Even though the specific box I ordered was frozen, it tasted fresher than any fish I've ever prepared. All 6 of the fish were so decadent that leftovers was out of the question. Ordering from GreenFish is going to become a regular occurrence, because I'm hooked now. #onlygreenfish
16/02/2021
Elaine W.

South Africa
Love the Greenfish Box and the service was excellent!
This was the second time I ordered this box from you and I love it! I ordered the box at 10h30 and it was delivered by 14h30....excellent, friend and professional service! Its a pleasure dealing with you!
10/02/2021
Erica D.

South Africa
NK
25/01/2021
Nicol K.

South Africa
Fantastic assortment and quality
I've bought the Duo Box before and I love all the different types of fish that come in this pack. Every time I take some fish out for dinner it's a fun surprise which we'll get :) This evening I made a really simple and easy dish with yellowtail, garlic, butter, and parsley. It may not look it, but it was absolutely delicious. I can't recommend Greenfish enough and I'll definitely be buying this pack again! PS the butterfish is my favourite.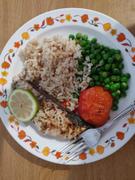 19/01/2021
Zach N.

South Africa
Quick, Easy and most importantly fresh and delicious.
Our box arrived the next day, the courier was super friendly and the quality of the fish is so far out of this world!
18/01/2021
Mariette C.

South Africa
09/01/2021
Maya F.

South Africa
Just brilliant
We ordered our fish box before 11am and received it the same day. Freshly frozen assorted fish - a great box to keep in the freezer and pull out pieces when needed. We also ordered fresh yellowtail pieces which we could throw on the braai that evening. So much easier than going to the shops and fresher!
31/12/2020
David V.

South Africa
Duo box
Same day service was a treat! Looking forward to cooking some fish for NYE dinner.
PW
16/12/2020
Philippine W.

South Africa
Great Box with different possibility
This is a great box for a couple, we got several meal catered for, for 2. We even discovered some new fishes and they were so good. The fish is super fresh and delicious, I highly recommend !
14/12/2020
Zandile .

South Africa
Perfect due- Awesome fresh fish
10 stars! Lovey fresh fish ! Immaculate packaging...
08/12/2020
Daél J.

South Africa
Happiness packaged
Greenfish has officially become my close friend who happens to be a fisherman/ chef. My order saved me hours in time, provided me with the convenience wholesome, quality produce, in packaging portioned appropriately. No mess, no fuss, an AMAZING selection of great quality fish that I wouldn't just find at the local fish counter and good service, at a reasonable price.
17/11/2020
Mariette B.

South Africa
Tuna and box fish
Excellent experience
11/11/2020
Sandy M.

South Africa
A firm favorite!
The fresh tuna was absolutely delicious! And the hake nice and firm. Look forward to trying out the rest of the box!
04/11/2020
Sophie O.

South Africa
Wonderful fresh fish
Thank you - the tuna was beautiful and we are sure the other fish will be too!
26/10/2020
Zanike G.

South Africa
MOST AMAZING FISH EVER!
I can not even begin to explain how great this Duo Box is. From the packaging right onto our plates the quality is amazing. [I have certainly discovered a new love for Sword Fish ] Thank you - we will definitely be ordering again soon! Zanike
22/10/2020
Inez C.

South Africa
Greenfish Box Duo
Our Family Love this Box Fish is always fresh and delish
20/10/2020
Janet d.

South Africa
Just love your product!
I was so impressed that I actually received my order on the same day I ordered. The fish it delicious and of excellent quality! Will definitely order again soon. I will also tell my friends about this company.
19/10/2020
Ayoub B.

South Africa
Good quality
Great. Grilled the Sea Bass and Marlin the next day. Fresh and great product. Clean and well packaged. Delivery same day even though ordered after 11h00. Thank you. Only one package was not labelled, think it could be the butter fish, will have to cook and taste it,