Prawn Tails | Easy Cooking | 1kg | Wild Caught
Regular price
R349
R0
Unit price
per
Content:
This Prawn Tails Box features 1kg of  Prawn Tails carefully selected for you to enjoy with your family or friends.  
Prawn Tails (1kg in your box - about 15/30 individual prawns)
This box is ideal for any prawn lover to add some variety into their week day cooking. We have taken care of the mess, you look after the rest. Your prawns will arrive vacuum packed in a box, to make it easy to use at home.  

Instructions:
Your box will arrive frozen, simply store in your freezer (up to 3 months) and use at your leisure. It is best to remove product from packaging to defrost (do not thaw under vacuum/pressure), simply place on a tray in your fridge and allow to thaw slowly. 
*these prawns are caught and frozen at sea to lock in the goodness.  They will therefor arrive to you the tail with shell on  and partially deveined.  Prawns cannot be butterflied as this would require us to defrost and refreeze them affecting the quality.

For easy recipes and more information on how to prepare the fish, please visit our partner site fishwife.co.za
Notes/Special Requests:
When you check out there is a section for notes, here you can tell us if you have any special requests for the cutting of your fish.  This is also a great place to tell us if your door bell does not work or any other info you want to share with us to streamline getting you the freshest fish in town to your door quickly.
Sustainability
This fishery is currently undergoing an MSC certification and plans to have this in place soon. Origin Atlantic Ocean (Argentina) 
https://fisheryprogress.org/fip-profile/argentina-offshore-red-shrimp-bottom-trawl
Delivery:
R65 same-day packaging & delivery fee
 CBD | Southern Suburbs | Houtbay | Platterkloof 



Delivery: Monday to Friday

Order before 11am and receive your delivery the same day.

Order after 11am and receive your delivery the following day.
 Deep South | Tableview, Blouberg, Melkbos | Durbanville 



Delivery: Monday to Friday
Order before 3pm and receive your delivery the following day.

Order after 3pm and receive your delivery the next delivery run. (Mon - Fri).
 Stellenbosch | Somerset West | Franshoek | Paarl 



Delivery: Tuesday to Friday
Order before 3pm and receive your delivery the following day.

Order after 3pm and receive your delivery the next delivery run. (Tue - Fri).
We are working hard to extend our range. If you live outside our current delivery range but think there is significant demand in your area, please contact us.
*Please note we do not deliver on Saturday, Sunday and Public holidays.
*We endeavour for same day delivery where possible.
Customer Reviews
Write a Review
Ask a Question
02/03/2021
Stephanie W.

South Africa
Superb
Very nice Very Yummy, excellent quality
27/02/2021
Juanita H.

South Africa
Beautifully packed
I have not cooked mine as yet. Delivery and packaging is well done.
25/02/2021
Pieter D.

South Africa
21/02/2021
Raoule B.

South Africa
Seamless and excellent experience!
Thank you Ryan and team: excellent service, delivery and packaging. Both the Tuna and Prawns exceeded our expectations.
16/02/2021
Hans M.

South Africa
Beautiful Prawns.
Love the packaging and the contents was even better. Must be some of the most delicious prawnsI have eaten. The whole process was a truly satisfying experience. Thank you
10/02/2021
Lee G.

South Africa
06/02/2021
Anisa E.

South Africa
24/01/2021
Clint W.

South Africa
Best prawns ever!!
Awesome. Best prawns ever. Easy to peel.
22/01/2021
LEON V.

South Africa
Prawn tails
Excellent , size and quality of the prawns. Made a very nice meal, like old Mozambique days!
21/01/2021
Pam A.

South Africa
We have been absolutely delighted with the quality of the your fish. We have ordered, hake, prawns and mussels. What a treat to eat such amazing fish.
Wonderful. Your service is outstanding. Many thanks.
14/01/2021
Mandy C.

South Africa
Prawn Tails
Cooked these on New Years Eve and we both agreed they were some of the best prawns we've had. Sweet, juicy and great value. Will definitely be buying more of these.
07/01/2021
Natalie T.

South Africa
03/01/2021
Lucie O.

South Africa
Insane prawns - great size, great taste, will order again and again!
Thank you so much Greenfish! This was my first order, I ordered two packs of prawns as I was worried we wouldn't have enough to feed five adults with one pack. Well, I needn't have worried, but wow, two packs were SUCH a festive treat - we could not resist eating them ALL! Was utter heaven. Can't wait to have them again. I have already told all my friends about Greenfish! Great service, super quick delivery, top marks all round.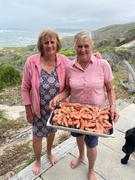 02/01/2021
Candice B.

South Africa
Sweetest, juiciest prawns
These prawns were the sweetest, juiciest prawns I have had in a while. We braaied them and swore we would do it again. They were freshly frozen, and came hygenically packed. It's great value for money when you consider what you would pay the same amount of prawns in a restaurant. A really excellent experience overall.
01/01/2021
Elize T.

South Africa
Finger-licking good prawns
Fresh, large prawntails - just right for a New Years' seafood feast!
24/12/2020
Siddeeqa G.

South Africa
Best fish in the sea
Love the quality, service and most of all ethos of green fish!
28/11/2020
Petro O.

South Africa
Absolutely fresh!
We made prawn sosaties and they were so tasty! Great quality.
05/11/2020
Melissa Y.

South Africa
Happy Customer
Very efficient, great communication. I was impressed that the parcel was well packed and clean.