Prawn Tails | Frozen Box | Wild caught | 1kg
Regular price
R389
R0
Unit price
per
SECURE
CHECKOUT
via PayFast
SAME DAY
DELIVERY
order by 11am
100%
SATISFIED
or full refund
About

FRESH FROZEN AT SEA TO LOCK IN FLAVOUR

This box is by far the easiest way to add prawns to your culinary repertoire. Our prawn tails are caught in the cold Atlantic Ocean between South Africa and Argentina and are prepared and frozen on the boat for maximum flavour preservation. The prawns arrive at your door with the heads removed and partially deveined and ready for your next seafood feast.

CONTENTS

1 kg prawn tails (Between 15 and 30 prawns)

Instructions

Your Prawn tails will arrive frozen, simply store in your freezer (up to 3 months) and use at your leisure. It is best to remove product from packaging to defrost (do not thaw under vacuum/pressure). Simply place on a tray in your fridge and allow to thaw slowly. We are not able to butterfly or de vein prawns, as this would require defrosting and refreezing, which effects quality. These prawn tails are delivered shell on and vein in.

Any special requests or instructions can be left in the NOTES section at the Checkout. Eg: Your doorbell does not work, you require a phone call before the order arrives, you would like the fillets / steaks vacuum packed seperately or cut into smaller portions etc.

Eco rating

Our prawns are sourced from an Argentinian fishery that is in the final stages of MSC certification. This is in line with efforts by this body to help reduce the impact fisheries have on species populations and ocean ecology, while also finding new ways to reduce harm to seabirds and bycatch.

ECOSYSTEM IMPACT :

Medium high

GEAR USED :

Trawl

SUPPORTING LOCALS :

No

DISTANCE TRAVELLED :

5000km

DOLPHIN / TURTLE IMPACT :

Medium

REPRODUCTION POTENTIAL :

Medium

Fishwife Recipes

Vietnamese Spring Rolls

Prawns can be fried, boiled, grilled or braaied, but our partner site The Fishwife is here to share a recipe with Asian inspirations. You will need:

Prawns
Vermicelli Rice noodles
Cucumber
Carrot
Red Pepper
Coriander
Rice Paper Wraps
Hoisin Sauce
Peanut Butter

Preparation:

Blanch the prawns in a pot of boiling water for approximately 3 minutes. Remove and set aside to cool.
In a bowl, cover the rice noodles with boiling water and allow to soften for about 2 minutes before straining and setting aside.
Julienne the carrot, cucumber and red pepper and set aside in separate bowls.
Remove the coriander leaves from stalks and set aside.
Find a dish large enough for the rice paper wraps, add hot water, submerge one wrap, and allow the wrap to soften for about 15-20 seconds. Remove the wrap and set on a clean flat surface.
Add small amounts of the prawn, carrot, cucumber, red pepper, rice noodles and coriander, roll the wrap halfway, tuck in the sides and continue rolling to create a sealed spring roll.
Repeat the process to make as many as you like.
To make the dipping sauce, add 2 Tbsp Hoisin Sauce to 1 Tbsp peanut butter.
Enjoy cold.

Notes:

No quantities are given as the recipe is scalable, but you will need about 3 prawns and a tablespoon of each filling per roll.

Delivery

R65 same-day packaging & delivery fee

 CBD | Southern Suburbs | Houtbay | Plattekloof 

 Deep South | Table View, Blouberg, Melkbos | Durbanville 

 Stellenbosch | Somerset West | Franschhoek | Paarl 




All zoned areas: Monday to Friday

Order before 11am and receive your delivery the same day.

Order after 11am and receive your delivery the following delivery day.

Please note we do not deliver on Saturday, Sunday and Public holidays
Re-delivery fee may apply if delivery cannot be taken between delivery times (14:00 - 17:00) without any prior arrangement and a delivery was attempted. Email [email protected] or call 063 666 2802

We are working hard to extend our range. If you live outside our current delivery range but think there is significant demand in your area, please contact us.

 
Customer Reviews
Write a Review
Ask a Question
Great quality, outstanding packaging
My first time - ordered at 10h00 and received at 16h00 on same day. Loved the quality of the prawns and kingklip. Amazed at the packaging standard. Highly recommended.
14/04/2022
Nicole

South Africa
Prawns
Service is always great from placing the order , to delivery and quality. Thanks for always going extra mile in providing a service to your customers. take care
21/03/2022
Alan D.

South Africa
1kg prawn tails
As usual, great prompt service and excellent prawn tails
28/01/2022
Rory L.

South Africa
Delicious and Fresh
High quality seafood with great and professional service! Would highly recommend to anyone looking for seafood in Capetown.
23/01/2022
Bridgette W.

South Africa
Best and freshest prawns we have ever ordered!
Definitely beats the store bought quality prawns. The prawns were frozen as per the description, yet when defrosted were clearly very freshly frozen as the meat wasn't at all floury. Absolutely stunning seafood, we will definitely order this again. Love the convenience of same day delivery too.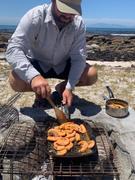 10/01/2022
Evelin B.

South Africa
Magnificent
To perfection as usual. Fresh, delicious, a gourmet treat. Service impeccable.
03/01/2022
Leslee B.

South Africa
First order with Greenfish
I was happy with my order. I ordered the prawn tails on the 24th Dec after 11H00 so I did not expect same day delivery. I received my delivery on the 28th. They were a good size and all together there was 45 prawn tails. I was a bit disappointed that although it said they were partially deveined they were not. As the heads had been removed the section of vein from the head to the tail was gone but they had not been cut open or any portion of the vein in the tail removed. I just felt the term partially deveined was not an accurate description but on the whole I was happy no will order again.
01/01/2022
Michael B.

South Africa
Brilliant prawns
Unable to get Mozambican prawns in Cape Town, desperate for similar quality never available in Vanamei and other Asian prawns available. Tried the GREENFISH PRAWN TAILS seriously good quality and delicious and great value for money. Should never have doubted anything from Greenfish they rock, always a fan and a client
31/12/2021
Ronald R.

South Africa
We dont buy farmed prawns from thailand or vietnam…
We dont buy farmed prawns from thailand or vietnam (antibiotics) these are wild prawns from argentina.. good size and healthier. Prepare with lots of garlic and dont forget to add some salt when ready..
29/12/2021
Kirstin T.

South Africa
Awesome
First time client - very happy with the product and the service. I will definitely be buying from Greenfish again!
24/12/2021
Monique A.

South Africa
Yummy scrummy delish!
To say we were impressed is an understatement. Easy online ordering, speedy delivery and the most insanely delicious prawns imaginable. All I can say is that I'm happy to have ordered 2kg's instead of 1! Will definitely be ordering again. Thanks GREENFISH
24/12/2021
Marta W.

South Africa
Prawn tails
Prawn tails are of a great size and always great service. Keep coming back for more
16/12/2021
Marlow S.

South Africa
19/10/2021
Paul K.

South Africa
Prawn Tails
Excellent, thank you
29/09/2021
Elize D.

South Africa
Amazing quality
Great quality and taste. Only reason it's not a 5 star is because of the timeliness of cleaning them. This is however disclosed on the site, so I expected this .
29/09/2021
Elize D.

South Africa
Amazing quality
Great quality and taste. Only reason it's not a 5 star is because of the timeliness of cleaning them. This is however disclosed on the site, so I expected this :)
28/08/2021
Simukeliswa R.

South Africa
Prawn tails
My wife made a lovely prawn curry on this chilly day. The prawns were a good size and very succulent. Wifey loves your products. Will definitely be purchasing more of you products, please let me know when you guys have hake in stock.
22/08/2021
Kim F.

South Africa
Heavenly juicy prawn tails
Beautiful size. Juicy firm flesh
21/08/2021
Mahesh

South Africa
Prawn Tails
My son made prawn linguini with these tails and it was exceptional - the prawns were fresh and succulent!