Fresh box | Tuna Steaks | Caught off Cape Point
Regular price
R329
R0
Unit price
per
Content
This catch of the day features Yellowfin Tuna Steaks. This tuna has been locally and sustainably caught by our Pole fisherman, one hook, one line, one fish at a time. We have carefully selected for you to enjoy with your family or friends. You can also use this to cut sashimi.
2x Yellowfin Tuna Steaks (total +-800g-950g per box ) (enough to serve 4. Steak thickness may vary to achieve correct weight)
This box is ideal for any fish lover to add some variety into their week day cooking or on the braai. We have taken care of the mess, you look after the rest. Your fish will arrive in individual vacuum packs, to make it easy to use at home.  
Instructions:
Your box will arrive fresh, simply store in your fridge  and use at your leisure (up to 5 days).  For home freezing, freeze on the day of arrival, and use within 3 months.  Yellowfin tuna flesh colour may change colour from a light pink to light brown once frozen (this is normal).
http://fishwife.co.za/yellowfin-tuna-steaks-on-the-braai/

http://fishwife.co.za/yellowfin-tuna-poke-bowl/

For easy recipes and more information on how to prepare the fish, please visit our partner site fishwife.co.za 

Notes/Special Requests:

When you check out there is a section for notes, here you can tell us if you have any special requests for the cutting of your fish.  This is also a great place to tell us if your door bell does not work or any other info you want to share with us to streamline getting you the freshest fish in town to your door quickly.
Sustainability
http://wwfsassi.co.za/fish-detail/112/
Delivery:
R65 same-day packaging & delivery fee
 CBD | Southern Suburbs | Houtbay | Platterkloof 



Delivery: Monday to Friday

Order before 11am and receive your delivery the same day.

Order after 11am and receive your delivery the following day.
 Deep South | Tableview, Blouberg, Melkbos | Durbanville 



Delivery: Monday to Friday
Order before 3pm and receive your delivery the following day.

Order after 3pm and receive your delivery the next delivery run. (Mon - Fri).
 Stellenbosch | Somerset West | Franshoek | Paarl 



Delivery: Tuesday to Friday
Order before 3pm and receive your delivery the following day.

Order after 3pm and receive your delivery the next delivery run. (Tue - Fri).
We are working hard to extend our range. If you live outside our current delivery range but think there is significant demand in your area, please contact us.
*Please note we do not deliver on Saturday, Sunday and Public holidays.
*We endeavour for same day delivery where possible.
Customer Reviews
Write a Review
Ask a Question
18/01/2021
Inge-Marié R.
South Africa
Poke Bowl Madness
Dear Ryan What a pleasure to do business with you!We were indeed impressed with your product: 1. It was delivered on the same day as promised. 2. The box it was delivered in, was so neat and clean! No fishy smells at all! 3. The tuna steaks were top quality and fresh just by the look of it and it was still cold thanks to the neat, clean block of ice. Thank you for the punctual delivery and for the clean, neatly packed, top quality, fresh fish! Looking forward to do business with you again! The reason we ordered the fish, was because of a Christmas party where each couple needed to provide a course for the dinner. The theme was "La Mer". We had to do the main course so we decided to do poke bowls with fresh tuna. It was an absolute feast and massive success! The people loved the dish and one person who doesn't eat fish at all, devoured the poke bowl! See photo of our dish attached. Kind regards Inge-Marié Rabie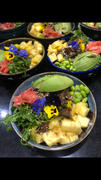 08/01/2021
Richard C.
South Africa
Best Tuna
Tuna was very fresh and perfect cut. Arrived in a cold pack. Will never shop anywhere else
05/01/2021
Tina d.
South Africa
Fresh tuna steaks
I placed my order @ 11:30 and my fresh tuna steaks were delivered before 5. I was impressed there and then. The quality of the packaging and contents exceeded my expectations by far. I am definitely ordering again soon!
05/01/2021
Megan K.
South Africa
The best fresh fish delivery service ever!!!!
I ordered yellowtail, tuna and sole. The fish arrived beautifully packed and it could not have been fresher unless I'd got it from the fishermen myself! I'm a big yellowtail fan and it was the best I've ever tasted! So fresh! I will definitely be using Greenfish again! What a delightful treat!! Convenient, fresh, sustainable and delicious!!!
30/12/2020
Alison B.
South Africa
Fresh Tuna from Greenfish
Absolutely amazing service! I ordered online and this perfect box of fresh tuna delivered to my doorstep! Enough for 4 people, kept cool and fresh until I received it! We had it for dinner- Seared just the way we like it - delicious!
30/12/2020
Jenny H.
South Africa
24/12/2020
Tarah D.
South Africa
So fresh, so impressed
Just wonderful! Fantastic fish and such a seamless experience from order to eating.
22/12/2020
Deon P.
South Africa
First Purchase at Greenfish
Hi Ryan The overall experience was effortless from placing the order to delivery. We were blown away by the quality of the yellow tail , at 9 pm last night I was still busy with a pickle for the left overs. The tuna will go into a salad for lunch today and can't wait to try it. Thank you for a great experience, looking forward to our next order.
18/12/2020
Julie S.
South Africa
Best tuna in the Cape
The tuna I get from Greenfish is so much better than any other tuna I've purchased anywhere. It almost doesn't need any fancy seasoning to taste amazing, which is great for me as I'm not a great cook. Plus the service and delivery is always super efficient. Won't order anywhere else.
18/12/2020
Mark V.
South Africa
Excellent Service and Quality
A no hassle method for purchasing excellent quality seafood at reasonable prices. Highly recommended. Mark
GB
18/12/2020
Gustav B.
South Africa
You can tuna piano, but you can't piano tuna.
And why would you want to? I'd much rather eat it, especially when it's as fresh and lovely as the tuna supplied by Greenfish. The cuts had a beautiful bright color, and were so fresh that they smelled like the ocean rather than "fishy". If you sear the outside of your tuna steak, do try cutting across the grain when eating. I find that it actually changes the flavour and brings out a delicious fatty taste. Now I just need to wait out the pandemic so I can get enough friends together to justify ordering the sushi cut for sashimi.
14/12/2020
Zandile H.
South Africa
12/12/2020
Tony L.
South Africa
11/12/2020
Ludeke N.
South Africa
11/12/2020
June D.
South Africa
Lucky "fish" me
Xmas came early to an old widow with "comorbidity" and fear of going out to shop. My tuna box was fresh and fabulous and the steaks and bellies SUPERB I also have to note that initially online payment was difficult for me but with help from Ryan and Gabi it was sorted out within minutes.
10/12/2020
Catherine S.
South Africa
08/12/2020
Nicola I.
South Africa
Tuna with sweet potato glass noodles
Our Greenfish tuna arrived punctually, with the ice still frozen in a white box with two succulent chunks of tuna. We feasted on Korean sweet potato glass noodles & seared tuna for dinner. The perfect treat for a family in quarantine. We'll definitely be placing further orders on Greenfish.
05/12/2020
Sonia B.
South Africa
Fresh caught tuna steaks
Easy to order, delivery same day in vacuum packaging with ice. The tuna steaks were mouth-watering and we will be ordering more!
27/11/2020
Jenny
South Africa
Outstanding quality
My second order of tuna from Greenfish and I am so thrilled with the quality! Interestingly all previous purchases of tuna from other suppliers have, within minutes of eating, given me a very strange tingling feeling around my mouth and cheeks. This lasts about 20 minutes. Greenfish tuna is the first tuna I've eaten where I don't get this reaction. All I can assume is your cold chain is excellent - thank you so much! I'm thrilled!