Fresh box | Swordfish Steaks | Caught off Cape Point
Regular price
R249
R0
Unit price
per
Content
This catch of the day features fresh Swordfish Steaks .  This swordfish was caught off Cape Point from fisherman departing from Table Bay.  We have carefully selected for you to enjoy with your family or friends.  You can also use this to cut sashimi.
2x Swordfish Steaks (+-800g-950g per box ) (enough to serve 4)
This box is ideal for any fish lover to add some variety into their week day cooking or on the braai. We have taken care of the mess, you look after the rest. Your fish will arrive in individual vacuum packs, to make it easy to use at home.  
Instructions:
Your box will arrive fresh, simply store in your fridge  and use at your leisure (up to 5 days).  For home freezing, freeze on the day of arrival, and use within 3 months.  Swordfish flesh colour may change colour from a light white to light brown once frozen (this is normal).
http://fishwife.co.za/golden-pan-seared-swordfish-steaks/

For easy recipes and more information on how to prepare the fish, please visit our partner site fishwife.co.za 

Notes/Special Requests:

When you check out there is a section for notes, here you can tell us if you have any special requests for the cutting of your fish.  This is also a great place to tell us if your door bell does not work or any other info you want to share with us to streamline getting you the freshest fish in town to your door quickly.
Sustainability
http://wwfsassi.co.za/fish-detail/107/

Delivery:
R50.00 for all zoned areas 
 CBD | Southern Suburbs | Houtbay | Plattekloof 
Delivery: Monday to Friday (Same Day Delivery)

Order before 11am and receive your delivery the same day.

Order after 11am and receive your delivery the following day.
Deep South | Tableview | Blouberg | Melkbos | Durbanville | Stellenbosch | Somerset West | Franschhoek | Paarl | Surroundings
Delivery: Monday | Tuesday to Friday
Order before 3pm and receive your delivery the following day.
  https://greenfish.co.za/pages/where-we-deliver, 
 *Please note we do not deliver on Saturday, Sunday and Public holidays.
Customer Reviews
14/10/2020
frederik a.
South Africa
my first time eating sword fish : its better than tuna and i loved it!
easy to use take out of vac pack and put in pan ,i will order again if its available again!
12/10/2020
Yolanda M.
South Africa
I used to say "No thanks" to Swordfish....
Fantastic!! Super fresh and thick cut made for the perfect braai swordfish steaks. Thanks for the rapid delivery. Proper iced storage and ample serving size for four. Delish!
18/09/2020
Jane
South Africa
Fabulous!
The swordfish was super fresh with two thick large steaks. I would definitely buy it again. All the fish we have bought from Greenfish has been top quality. Highly recommended and we love to support a sustainable, family business.
16/09/2020
Gordon M.
South Africa
Great fish super fast
I ordered my fish at about 15:15 expecting to receive the fish the next day but the fish was delivered within 2 hours off paying for the order. Great fresh fish and great service, thanks guys. Gordon Matheson
10/09/2020
Ian S.
South Africa
Swordfish
As always fantastic … crispy fresh !
10/09/2020
Dani B.
South Africa
Good quality fish
I would have preferred thinner steaks for cooking and would like the option of smaller portions, but overall really good quality and packaging.
19/08/2020
Mandy C.
South Africa
Swordfish/Tuna
I think this was the third time have ordered from Greenfish. Super quick delivery, beautiful fish and vacuum packed. Great service and product
01/08/2020
Astrid R.
South Africa
Swordfish steaks
Wonderfully fresh and tasty! Reliable delivery. Thank you
30/07/2020
Deborah W.
South Africa
Top notch fresh and quick delivery.
Will be a regular customer!
25/07/2020
Caroline M.
South Africa
Freshness in a Box
Absolutely delicious swordfish steak that is the best I have ever eaten. So fresh. I also love knowing where the fish is caught. Green Fish is strides ahead in their offering. Creative packaging, professional and real value.
20/07/2020
Leslie E.
South Africa
Delicious!
This swordfish is amazing. Delicate texture, great tasting and so fresh.
19/07/2020
Sophie O.
South Africa
Delicious swordfish
Fantastic, thank you! The swordfish was so fresh, delivered immediately, and so delicious!
20/06/2020
Cassandra S.
South Africa
Amazing!!
Fish was fresh, no sinue on the tuna. Delivery was prompt. Fantastic service all round!
10/06/2020
John C.
South Africa
Swordfish Steaks
Great service, good value and will definitely use again
29/05/2020
Marcel B.
South Africa
I'm Hooked
This was my Second order I made after I had received such great service from the first. I got recommended to this service by my friend Grahame, I have recommended it to my family and colleagues who have all since used the service. When a product or spreads so quickly by word of mouth you know you are getting a quality product and service? As for the Swordfish, well I have never seen food disappear so quickly, Fresh and delicious. Marcel Bailey
JT
17/05/2020
Jaclyn T.
South Africa
Delicious, fresh swordfish
This was the best fish we've ever eaten. It was unbelievably good - real restaurant quality. Plenty for our family of 4 - it was really thick. I seasoned it with salt, pepper and a little paprika and cooked it with a blob of butter for 3 mins a side then put it on oven for 5 mins. Made a butter, lemon, garlic and chive sauce - heated it very slowly so it was creamy and thick. Such a treat - we really had a gourmet meal. Communication and delivery were excellent aswell. Would highly recommend Green Fish.
16/05/2020
Shireen F.
South Africa
Green Fish Swordfish steaks
Was lucky enough to receive some Green Fish Swordfish steaks this week and can honestly say that I'm beyond impressed. I received a notification on the progress of the delivery and the fish was at my gate by the afternoon, perfectly wrapped and on ice. The steaks were extremely fresh and absolutely beautiful. I don't think I've had fresher fish - ever! Was able to have a 6 star dinner. Thank you Ryan and the Green Fish team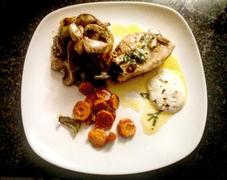 14/05/2020
Marike G.
South Africa
Amazing fresh swordfish from Greenfish
Thanks for the amazing swordfish, it was super yum. We enjoyed it on the braai with a quick side salad and tamato salsa. Was really yummy. Quick and easy dinner and feasting like King and Queen in Lockdown. Luckily we still had a great bottle of Chardonnay PinoNoir that we could enjoy with it. Thanks Greenfish!
13/05/2020
Anita B.
South Africa
Delicious treat
We bought fresh box Swordfish and Tuna steaks. The fish was delivered the very next day on our farm outside Wellington by a friendly chap. The fish was perfectly packaged and fresh. I could see from the way the steaks were cut, that an expert was involved. The taste delivered 100% too. We're a family of four (my sons are 9 and 10) and the meat was just enough for the four of us (4 portions according to the order form). It is a delicious treat to be able to order the lovely fresh fish. It is, however, quite expensive for a family of four to fish out R300 per home cooked meal. While we can unfortunately not afford to order on a weekly basis, we will definitely order again when budget allows. Thanks!
11/05/2020
Sonja R.
South Africa
Swordfish Steaks
Was really impressed with the fish. Good quality! Whole family liked it and delivery from Greenfish was great and quick.