Chokka | Calamari | Frozen Box | Wild caught
Regular price
R389
R0
Unit price
per
SECURE
CHECKOUT
via PayFast
SAME DAY
DELIVERY
order by 11am
100%
SATISFIED
or full refund
About

CHOKKA-FUL OF FLAVOUR

The Cape Hope Squid (commonly known as Chokka or Calamari) is a small (20 – 30cm long) species of squid which lives in coastal waters. Chokka are endemic to the South African coastline and spend their days on the seabed, coming to the surface at night. 95% of the chokka harvested in South Africa is exported to countries around the world. All our chokka is caught by local traditional artisanal squid fishermen departing from False Bay and St Francis.

CONTENT

Clean Tubes and Heads (approx. 750g - 800g per pack)

Instructions

Your Chokka will arrive frozen, simply store in your freezer (up to 3 months) and use at your leisure. It is best to remove product from packaging to defrost, simply place on a tray in your fridge and allow to thaw slowly.

Any special requests or instructions can be left in the NOTES section at the Checkout. Eg: Your doorbell does not work, you require a phone call before the order arrives, you would like the fillets / steaks vacuum packed seperately or cut into smaller portions etc.

Eco rating

All our chokka is sourced from artisanal squid fishermen, using one jig and line, catching one squid at a time. This fishing method is highly targeted and there is almost no incidental bycatch or damage to the environment. Chokka are fast growing, and although fishing pressure has increased their population levels and biomass are increasing. We do not source any chokka caught through trawling.

ECOSYSTEM IMPACT : Low

GEAR USED : Hand line jig

SUPPORTING LOCALS : Yes

DISTANCE TRAVELLED : 500km

DOLPHIN / TURTLE IMPACT : None

REPRODUCTION POTENTIAL : Very high

Fishwife Recipes

Coriander and Lime Chokka

Chokka can be grilled, fried or braaied, but The Fishwife is here to share her recipe for Coriander and Lime Chokka. You will need:

250g chokka
2 Tbsp olive oil
2 Tbsp coriander (finely chopped)
2 limes (juiced)
1 tsp sugar
sushi mayonnaise

Preparation:

Cut open the chokka tubes to make fillets.
Remove the membrane from the chokka tubes by scoring them with a fork lengthways. Any bit of residue that is retained in the fork can be disposed of.
For the heads, remove the beak and cut the eyes off.
Combine the olive oil, coriander, lime juice and sugar to make your marinade.
Place the scored chokka fillets and your heads in a ziplock bag and pour the marinade into the bag.
Seal and allow to marinade for about 5-10 minutes.
Remove the heads from the marinade and thread onto a kebab stick for easy turning.
Place the chokka fillets on a sealable braai grid which presses closed - this way when the chokka cooks, it will prevent them from curling.
Braai on a medium high heat for 5-7 minutes.
Enjoy with sushi mayonnaise on the side.

Delivery

Delivery

R65 same-day packaging & delivery fee
Free delivery on all orders over R1,200*

*Free delivery only applies for orders that are in the standard delivery zone.

 CBD | Southern Suburbs | Houtbay | Plattekloof 

 Deep South | Table View, Blouberg, Melkbos | Durbanville 

 Stellenbosch | Somerset West | Franschhoek | Paarl 




All zoned areas: Monday to Friday

Order before 11am and receive your delivery the same day.

Order after 11am and receive your delivery the following delivery day.

Please note we do not deliver on Saturday, Sunday and Public holidays
Re-delivery fee may apply if delivery cannot be taken between delivery times (14:00 - 17:00) without any prior arrangement and a delivery was attempted. Email [email protected] or call 063 666 2802

Collection

Collections are free and take place Monday to Friday.
Orders placed online before 11am will be ready to collect same-day from 12h00 to 5pm.
Orders placed online after 11am will be made ready for collection the following working day, from 12h00 to 5pm.
Should you place your order after 11am and need it that day, or need to collect before 11am (Monday to Friday) please contact our office 063 666 2802 and we will get it ready for you, it normally takes us an hour to cut and prepare.

Google Maps Search : Greenfish

Greenfish factory is located in N'Dabeni (Maitland) off Berkley Road turn into Ryger Road.  Drive +-300m and the road will bend sharply to the left.  We are situated  in the bend in a complex called Berkley Square.  Ask security for Greenfish Collections.  Please park outside the home collection door and ring bell.  It is well sign posted. Please park right outside the door.  

We are working hard to extend our range. If you live outside our current delivery range but think there is significant demand in your area, please contact us.

 
Customer Reviews
Write a Review
Ask a Question
Amazing
Fresh off the boat. Definitely going to be my main supplier.
31/08/2022
Gerti E.

South Africa
Choka
I have not tasted the choka yet but it looks very good. Your service was outstanding, congratulation.
24/06/2022
Mitch S.

South Africa
Best Chokka
It's one of my favorite items. Has loads more flavour. Love it! I use it often for a Calamari Curry! Perfect! Thank you.
17/02/2022
pierre b.

South Africa
Fresh
great product very happy
24/12/2021
Cheryl A.

South Africa
Chokka
Beautiful and fresh. Best buy.
18/02/2021
Nikos

South Africa
27/01/2021
Blythe S.

South Africa
Simply The Best!
I am very glad that I came across GreenFish, Every time that I have ordered, the quality has always been superb and service excellent! Deliver turn around time is amazing for those who often wake up in the morning and then only deciding what ti have for supper. I also love the fact that one can see exactly where the product is coming from and the status of their sustainable fishing.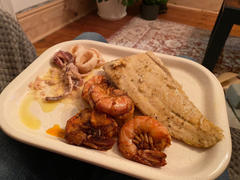 02/07/2020
Zulfah A.

South Africa
Tasty squid and efficient service
The squid was quite delicious and the squid was delivered on the same day even though I ordered after 11am! Definitely going try the other products in the near future!
23/06/2020
Leslie E.

South Africa
Great service and fish
I ordered late afternoon and was shocked when the delivery showed up about an hour later. Thanks for the being so quick! We're cooking swordfish for dinner tonight, it looks amazing.
17/06/2020
Silvia C.

South Africa
Best Squid I've ever had
I always wanted to try the local squid to know what the fuss was about... now I understand! Absolutely worth it. I made a very simple recipe and it just tasted like the best squid I've ever had!
26/05/2020
Megan A.

South Africa
Incredible Product, Incredible Service!
Absolutely loved it and will definitely use this company again!