Chokka Box | Squid | Caught in False Bay
Regular price
R349
R0
Unit price
per
Content
This catch of the day features Cleaned Local Squid (Chokka).  These squid have been locally and sustainably caught by our artisanal handline fisherman, one hook, one line, one fish at a time.  We have carefully selected for you to enjoy with your family or friends.
Clean Tubes and Heads ( +_750g-800g per pack )
This box is ideal for any fish lover to add some variety into their week day cooking or on the braai. We have taken care of the mess, you look after the rest. Your fish will arrive vacuum packed, to make it easy to use at home.  
Instructions:
Your box will arrive frozen, simply store in your freezer (up to 3 months) and use at your leisure. It is best to remove product from packaging to defrost, simply place on a tray in your fridge and allow to thaw slowly. 

For easy recipes and more information on how to prepare the fish, please visit our partner site fishwife.co.za 

Notes/Special Requests:
When you check out there is a section for notes, here you can tell us if you have any special requests for the cutting of your fish.  This is also a great place to tell us if your door bell does not work or any other info you want to share with us to streamline getting you the freshest fish in town to your door quickly.
Sustainability
http://wwfsassi.co.za/fish-detail/101/
Delivery:
  https://greenfish.co.za/pages/where-we-deliver, 
R65 same-day packaging & delivery fee
 CBD | Southern Suburbs | Houtbay | Platterkloof 



Delivery: Monday to Friday

Order before 11am and receive your delivery the same day.

Order after 11am and receive your delivery the following day.
 Deep South | Tableview, Blouberg, Melkbos | Durbanville 



Delivery: Monday to Friday
Order before 3pm and receive your delivery the following day.

Order after 3pm and receive your delivery the next delivery run. (Mon - Fri).
 Stellenbosch | Somerset West | Franshoek | Paarl 



Delivery: Tuesday to Friday
Order before 3pm and receive your delivery the following day.

Order after 3pm and receive your delivery the next delivery run. (Tue - Fri).
We are working hard to extend our range. If you live outside our current delivery range but think there is significant demand in your area, please contact us.
*Please note we do not deliver on Saturday, Sunday and Public holidays.
*We endeavour for same day delivery where possible.
Customer Reviews
Write a Review
Ask a Question
18/02/2021
Nikos

South Africa
27/01/2021
Blythe S.

South Africa
Simply The Best!
I am very glad that I came across GreenFish, Every time that I have ordered, the quality has always been superb and service excellent! Deliver turn around time is amazing for those who often wake up in the morning and then only deciding what ti have for supper. I also love the fact that one can see exactly where the product is coming from and the status of their sustainable fishing.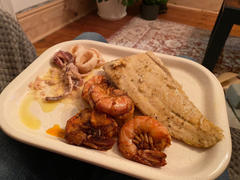 02/07/2020
Zulfah A.

South Africa
Tasty squid and efficient service
The squid was quite delicious and the squid was delivered on the same day even though I ordered after 11am! Definitely going try the other products in the near future!
23/06/2020
Leslie E.

South Africa
Great service and fish
I ordered late afternoon and was shocked when the delivery showed up about an hour later. Thanks for the being so quick! We're cooking swordfish for dinner tonight, it looks amazing.
17/06/2020
Silvia C.

South Africa
Best Squid I've ever had
I always wanted to try the local squid to know what the fuss was about... now I understand! Absolutely worth it. I made a very simple recipe and it just tasted like the best squid I've ever had!
26/05/2020
Megan A.

South Africa
Incredible Product, Incredible Service!
Absolutely loved it and will definitely use this company again!