Fresh box | Norwegian Salmon Fillet | 2kg | Farm Raised
Regular price
R699
R0
Unit price
per
Content
This fresh box features 1x Norwegian Salmon Fillets.   You get the same great taste of the ocean with out taking a fish from the sea..  We have carefully partnered up with a licensed farm and selected this for you to enjoy with your family or friends.
1 x Norwegian Salmon Fillet ( ~1.9kg-2.2kg per fillet)
Salmon from Norway is raised in cold clear good waters in the fjords.  They grow at there own pace and reach 4-8kg in just 12-18 months.  Salmon from Norway has a pure fresh taste, with fat marbling and an attractive red-orange colouring.
This box is ideal for any fish lover to add some variety into their week day cooking, Sushi or on the braai. We have taken care of the mess, you look after the rest. Your fish will arrive vacuum packed, to make it easy to use at home.  
Instructions:
Your box will arrive fresh, simply store in your fridge  and use at your leisure (up to 5 days).  For home freezing, freeze on the day of arrival, and use within 3 months.  
*we will remove the pin bones and scale the fish
For easy recipes and more information on how to prepare the fish, please visit our partner site fishwife.co.za 
Notes/Special Requests:
When you check out there is a section for notes, here you can tell us if you have any special requests for the cutting of your fish.  This is also a great place to tell us if your door bell does not work or any other info you want to share with us to streamline getting you the freshest fish in town to your door quickly.
Sustainability
Farm raised fish. Licensed farm and operate in an environmentally appropriate location to avoid impact on the area.  97.5% water to 2.5% salmon per facility to ensure fish has sufficient space to swim and grown. No routine antibiotics are used in the salmon as the remain generally healthy throughout their lifecycle.  Feed, 1.2kg of feed is used to grow 1kg of salmon. ~70% of the feed ingredients is derived from vegetable sources, the balance been from marine resources, where a bulk comes from fish that is not used for human consumption ie: offcuts etc... This farmed atlantic salmon has a lower carbon footprint than both beef and pork. The farm is an accredited member of GLOBALG.A.P. 
Greenfish is planting trees
Despite the good record of the salmon we have picked, we cannot ignore the impact of physically flying it over from Europe. We have decided to partner with a local NGO, Greenpop, in an effort to offset some of these carbon emissions.
We will be planting 1 tree for every 10 boxes of salmon fillets we sell. The trees will be planted around the coastal fishing community of Gaansbaai in an effort to increase bio diversity and expand the ecosystem in the area.
R65 same-day packaging & delivery fee
 CBD | Southern Suburbs | Houtbay | Platterkloof 



Delivery: Monday to Friday

Order before 11am and receive your delivery the same day.

Order after 11am and receive your delivery the following day.
 Deep South | Tableview, Blouberg, Melkbos | Durbanville 



Delivery: Monday to Friday
Order before 3pm and receive your delivery the following day.

Order after 3pm and receive your delivery the next delivery run. (Mon - Fri).
 Stellenbosch | Somerset West | Franshoek | Paarl 



Delivery: Tuesday to Friday
Order before 3pm and receive your delivery the following day.

Order after 3pm and receive your delivery the next delivery run. (Tue - Fri).
We are working hard to extend our range. If you live outside our current delivery range but think there is significant demand in your area, please contact us.
*Please note we do not deliver on Saturday, Sunday and Public holidays.
*We endeavour for same day delivery where possible.
Customer Reviews
Write a Review
Ask a Question
28/02/2021
Casey-Lee P.

South Africa
Perfect fish for sushi
This was my first time purchasing from Greenfish, however, there will certainly be more! I ordered the frozen tuna block as well as some Norwegian Salmon, it arrived as per my instructions placed and was perfectly packaged. Once the Tuna was defrosted, it was this beautiful deep purple in colour. Both fish were perfect for our sushi.
25/02/2021
Theo P.

South Africa
Superlative quality
Your prices generally are high, so I tend to use our local fish monger for my purchases. The salmon however is well priced, arrived fresh and on time. It was also delicious, as the compliments from our 6 guests would attest. I will be back for more and soon!
25/02/2021
Sam K.

South Africa
Fresh Norwegian Salmon
Another great experience. We ordered the morning and received our order well before supper time. The quality of the Salmon was excellent!
19/02/2021
Anne R.

South Africa
Norwegian Salmon Fillet- first order from Greenfish
The delivery of the Salmon was perfect, beautifully packed with a sachet of ice. The salmon was absolutely fresh and delicious. We will definitely order again. It would have been nice if we had been given the 10% discount on our first order as we later noticed was offered after we had been invoiced and paid. So do ask for that if it is your first order. Delivery charge is R65 so it could make sense to order more than one item.
19/02/2021
JOSEPHINE F.

South Africa
SUPERB, ALMOST SWIMMING SALMON!
I have just served this delicious salmon to friends for lunch - what a rave! Delivered on time exactly as requested, beautifully packaged and just such a pleasure. Friends have returned home with your details!
17/02/2021
Martin S.

South Africa
Norwegian Salmon - delicious
Absolutely delicious. Ice cold upon delivery and good cooking guidance by the fishwife contributed to this meal being a superbly delicious experience. Thank you very much!
17/02/2021
Dave H.

South Africa
Norwegian Salmon
Order received within 24hrs and product was everything that was promised - a wonderful fresh 2kg fillet, some of which we cooked on the braai the same day and the balance frozen for later date. I will definitely order again.
17/02/2021
Graham T.

South Africa
16/02/2021
Hans M.

South Africa
A lovely valentines meal for my wife.
Wonderfully packaged. I SousVide a portion for us for Valentines days lunch. We both really enjoyed the Norwegian Salmon. Thanks
13/02/2021
Desiree K.

South Africa
Salmon
Great value for money. Extremely tasty
12/02/2021
Yohan C.

South Africa
Salmon sushi cake
We had such a wonderful experience with salmon from Greenfish! We love salmon and have bought from various places before but this has to be the best. It was really delicious and fresh and we made a "sushi cake" out of it. Such a great deal as you get so much salmon... our sushi rolls had more salmon than rice in them :) Thank you Greenfish team!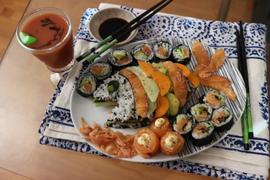 12/02/2021
Taryn v.

South Africa
Sushi anyone?
Some of the best sushi coming up!
11/02/2021
Sakkie M.

South Africa
Salmon Nirvana
Fantastic value for money especially when you compare what we would have paid when dining out.Can't wait to pickle the octopus which I ordered today.
10/02/2021
Kim A.

South Africa
Excellent
Absolutely fresh and delivery within 1 day!
07/02/2021
Martin S.

South Africa
Norwegian Salmon
Very healthy portion, super quality, good guiding recipes from the fishwife, very reliable service....all in all a superb experience. We will definitely order again.
06/02/2021
Karl S.

South Africa
04/02/2021
Craig S.

South Africa
Fresh box | Norwegian Salmon Fillet
Excellent service, super fast delivery and great quality!
02/02/2021
CHeryl m.

South Africa
Salmon box
Delicious and so fresh!
02/02/2021
Carol H.

South Africa
Norwegian Salmon Experience
The fish was just marvelous. I normally sear portions, but tried a tray bake with healthy portions of salmon, parboiled potatoes tossed in rosemary and parsley with olive oil, all tray baked at a high heat for 20 minutes. Served with a yoghurt mayonnaise dill and horseradish sauce and asparagus salad. The dish was so good that my young neighbours will be ordering from you! Beautifully prepared and packaged and delivered as promised in good time for the prep. I have already had your monkfish, calamari, mussels etc. Excellent!
31/01/2021
Ramsay M.

South Africa