Clam Box | Whole | Hand Picked | 2kg
Regular price
R249
R0
Unit price
per
Content
This clam box features 2kg of frozen whole clams.  They are wild harvest, and collected by hand, having a very low impact on the environment. They have carefully selected for you to enjoy with your family or friends.  
Clams, have a delicate flavour of the ocean, and infuse that flavour with what ever that are cooked with.
This box is ideal for any clam lover to add some variety into their week day cooking. We have taken care of the mess, you look after the rest. Your clams will arrive in a 2kg pack, to make it easy to use at home.  

Instructions:
Your box will arrive frozen, simply store in your freezer (up to 3 months) and use at your leisure. It is best to remove product from packaging to defrost (do not thaw under vacuum/pressure), simply place on a tray in your fridge and allow to thaw slowly. 

https://fishwife.co.za/linguine-clams/
For easy recipes and more information on how to prepare the fish, please visit our partner site fishwife.co.za
Notes/Special Requests:
When you check out there is a section for notes, here you can tell us if you have any special requests for the cutting of your fish.  This is also a great place to tell us if your door bell does not work or any other info you want to share with us to streamline getting you the freshest fish in town to your door quickly.
Sustainability
Hand picked Clams, similar to the white mussel as listed in the link below.
http://wwfsassi.co.za/fish-detail/132/

Delivery:
  https://greenfish.co.za/pages/where-we-deliver, 
R65 same-day packaging & delivery fee
 CBD | Southern Suburbs | Houtbay | Platterkloof 



Delivery: Monday to Friday

Order before 11am and receive your delivery the same day.

Order after 11am and receive your delivery the following day.
 Deep South | Tableview, Blouberg, Melkbos | Durbanville 



Delivery: Monday to Friday
Order before 3pm and receive your delivery the following day.

Order after 3pm and receive your delivery the next delivery run. (Mon - Fri).
 Stellenbosch | Somerset West | Franshoek | Paarl 



Delivery: Tuesday to Friday
Order before 3pm and receive your delivery the following day.

Order after 3pm and receive your delivery the next delivery run. (Tue - Fri).
We are working hard to extend our range. If you live outside our current delivery range but think there is significant demand in your area, please contact us.
*Please note we do not deliver on Saturday, Sunday and Public holidays.
*We endeavour for same day delivery where possible.
Customer Reviews
Write a Review
Ask a Question
14/01/2021
Vicky P.
South Africa
Excellent service and quality
The clams and octopus were excellent - have not cooked calamari yet. Service was exactly as promised- will definitely buy again
08/01/2021
Brendon G.
South Africa
Linguine Clams a must try
Great service and super fast delivery. the clams were clean and tasted good. As this was my first time having clams and following the linguine clams recipe from fishwife.co.za I cannot be more satisfied with how it came out. A fantastic experience from order, delivery, to cooking and to the table.
PL
06/01/2021
Pam L.
South Africa
Amazing delivery as usual
Next day delivery. Delivery person was so nice. Clams in superb connection and super fresh. Will not order fish or seafood from anywhere else.
05/01/2021
Nicola V.
South Africa
Clam delight!
I love clams. The clams arrive frozen in a plastic bag, so an easy stash in the freezer. This is another mid week winner as it tastes delicious but is super quick and easy to make. I love making clam pasta with linguini. Just requires an onion, garlic, parsley and a lemon. Give it a try - I love dishes that are super simple and easy, but seem really fancy! A great way to incorporate non-red meat options into your weekly menu.
PL
01/01/2021
Pam L.
South Africa
Amazing service and quality
Ordered on Greenfish for the first time, not only did I received exceptionally fast service, the quality of the clams were outstanding. Definitely will use greenfish again.
26/12/2020
Siven M.
South Africa
Clams
Excellent quality. Will be a regular on this site
17/12/2020
Lerina B.
South Africa
Sublime!
The clams were beautifully succulent and quite big compared to many others that I have bought from different sources. As always with Greenfish the ordering and delivery process is fast and efficient. I made the most delicious Spaghetti Vongole, as one must when you have clams. Served with a crisp glass of white wine, it's a seaside summer dish to die for and super simple to make.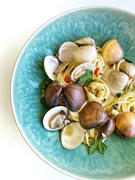 15/12/2020
Pier D.
South Africa
Neat and user friendly
Have not used the product but it looks real good and freshly frozen
22/11/2020
Ann H.
South Africa
Sweetest clam ever
Best clam I ever tasted
23/10/2020
Lee G.
South Africa
Beautiful clean clams
Steam these open, chill, and serve with a Dijon vinaigrette for a fabulous starter. Delish! Greenfish is the best! Love their service!
03/09/2020
Songah L.
South Africa
Delicious
It was so delicious. Thanks:)