Fresh box | Sushi Block | Tuna | Caught off Cape Point
Regular price
R549
R0
Unit price
per
Content
This catch of the day features a premium cut, Yellowfin Tuna Sushi Block suitable to cut your sashimi and sushi nigiri from.  This tuna has been locally and sustainably caught by our Pole fisherman, one hook, one line, one fish at a time.  We have carefully selected this for you to enjoy with your family or friends.
1x Yellowfin Tuna Sushi Block (+-1700g-1900g per box ) 
This box is ideal for any fish lover to add some variety into their week day cooking or on the braai. We have taken care of the mess, you look after the rest. Your fish will arrive vacuum packed, to make it easy to use at home.  
Instructions:
Your box will arrive fresh, simply store in your fridge  and use at your leisure (up to 5 days).  For home freezing, freeze on the day of arrival, and use within 3 months.  Yellowfin tuna flesh colour may change colour from a light pink to light brown once frozen (this is normal).
http://fishwife.co.za/yellowfin-tuna-poke-bowl/

For easy recipes and more information on how to prepare the fish, please visit our partner site fishwife.co.za 

Notes/Special Requests:
When you check out there is a section for notes, here you can tell us if you have any special requests for the cutting of your fish.  This is also a great place to tell us if your door bell does not work or any other info you want to share with us to streamline getting you the freshest fish in town to your door quickly.
Sustainability
http://wwfsassi.co.za/fish-detail/112/
Delivery:
R50.00 for all zoned areas 
 CBD | Southern Suburbs | Houtbay | Plattekloof 
Delivery: Monday to Friday (Same Day Delivery)

Order before 11am and receive your delivery the same day.

Order after 11am and receive your delivery the following day.
Deep South | Tableview | Blouberg | Melkbos | Durbanville | Stellenbosch | Somerset West | Franschhoek | Paarl | Surroundings
Delivery: Monday | Tuesday to Friday
Order before 3pm and receive your delivery the following day.
  https://greenfish.co.za/pages/where-we-deliver, 
Customer Reviews
Write a Review
Ask a Question
29/05/2020
Liezel E.
South Africa
Fresh tuna
Absolutely amazing fresh fish! You cannot go wrong!
14/05/2020
Mitch S.
South Africa
Sushi Block
It was the freshest Tuna I've ever had. Made the most delicious sushi. Super happy.
10/05/2020
Louis S.
South Africa
Fresh and friendly even during Level 4!
Friendly, efficient and complete social distance conscious delivery. Beautiful Tuna, as fresh as can be. We made some speedy seared steaks and we're keeping a handsome helping for sushi-night :) Super happy with the product and overall experience!
10/05/2020
Jean-Claude S.
South Africa
Greenfish Sushi Block Tuna, Scallops and Mussels
Hi Guys, All I can say is WOW - perfect seems to be an understatement when it comes to quality, effect and detail put into the Tuna cut we received. There is nothing better than cooking with fresh ingredients be it tuna sashimi or a Thai curry made with seared Tuna, Scallops and mussels. Really amazing stuff. It definetely worth its weight in gold to purchase your product rather than getting it in the shops as you are guaranteed the freshness and quality. Regards Jean - Claude
09/05/2020
Frieda v.
South Africa
Open mouth
Amazing service (I was in awe of the time it took after I ordered until delivery) and unbelievable fresh fish (we didn't want to stop)! We could still smell and taste the sea ... a wonderful experience especially now that we can't swim in it. Thank you! I will share this "secret" with everyone I know.
05/05/2020
Rhea H.
South Africa
Fantastic service!
I placed my order at 10:30am and received the freshest tuna four hours later. Delivery was quick and the package was left on the ground outside our gate during the exchange to ensure social distancing rules. The tuna was of fantastic quality and very fresh. Will definitely buy with Greenfish again!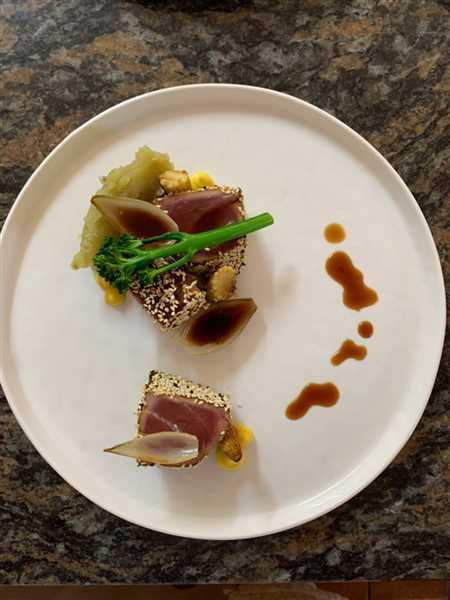 02/05/2020
Manue M.
South Africa
Excellent service.
Delivery was extremely quick and Tuna was amazing.
28/04/2020
Cristina D.
South Africa
Exceptionally happy customer
The fish is absolutely superb & always fresh (when that particular box is bought)! The quantity for quality ratio is exceptional And their delivery time can't be faulted. Definitely made a life long customer of me :)
22/04/2020
Josir
South Africa
Tuna sashmi
Best tuna sashimi. The fish was so fresh. Thank you
22/04/2020
timothy p.
South Africa
Chef's dream
This is literally the best tuna available, had a great time working with such beautiful quality Tuna! Thanks Ryan and Team for your great service and produce