Fresh box | Sushi Block | Tuna | Caught off Cape Point
Regular price
R599
R0
Unit price
per
Content
This catch of the day features a premium cut, Yellowfin Tuna Sushi Block suitable to cut your sashimi and sushi nigiri from.  This tuna has been locally and sustainably caught by our Pole fisherman, one hook, one line, one fish at a time.  We have carefully selected this for you to enjoy with your family or friends.
1x Yellowfin Tuna Sushi Block (+-1700g-1900g per box ) 
This box is ideal for any fish lover to add some variety into their week day cooking or on the braai. We have taken care of the mess, you look after the rest. Your fish will arrive vacuum packed, to make it easy to use at home.  
Instructions:
Your box will arrive fresh, simply store in your fridge  and use at your leisure (up to 5 days).  For home freezing, freeze on the day of arrival, and use within 3 months.  Yellowfin tuna flesh colour may change colour from a light pink to light brown once frozen (this is normal).
http://fishwife.co.za/yellowfin-tuna-poke-bowl/

For easy recipes and more information on how to prepare the fish, please visit our partner site fishwife.co.za 

Notes/Special Requests:
When you check out there is a section for notes, here you can tell us if you have any special requests for the cutting of your fish.  This is also a great place to tell us if your door bell does not work or any other info you want to share with us to streamline getting you the freshest fish in town to your door quickly.
Sustainability
http://wwfsassi.co.za/fish-detail/112/
Delivery:
R65 same-day packaging & delivery fee
 CBD | Southern Suburbs | Houtbay | Platterkloof 



Delivery: Monday to Friday

Order before 11am and receive your delivery the same day.

Order after 11am and receive your delivery the following day.
 Deep South | Tableview, Blouberg, Melkbos | Durbanville 



Delivery: Monday to Friday
Order before 3pm and receive your delivery the following day.

Order after 3pm and receive your delivery the next delivery run. (Mon - Fri).
 Stellenbosch | Somerset West | Franshoek | Paarl 



Delivery: Tuesday to Friday
Order before 3pm and receive your delivery the following day.

Order after 3pm and receive your delivery the next delivery run. (Tue - Fri).
We are working hard to extend our range. If you live outside our current delivery range but think there is significant demand in your area, please contact us.
*Please note we do not deliver on Saturday, Sunday and Public holidays.
*We endeavour for same day delivery where possible.
Customer Reviews
Write a Review
Ask a Question
23/01/2021
Connie S.

South Africa
Sushi block
This was the most delicious tuna we ever had. Our belgian relatives were very impressed. Thank you
22/01/2021
Esti F.

South Africa
Fantastic service at Greenfish
I have a very small houserestaurant and I dont buy huge quantities, but quality and service matter a lot to me. I was so impressed with how Greenfish informed me that the boats are out when I was waiting for fresh tuna. It made a huge difference and allowed me to order when it became available with prompt delivery. My guests raved about the Tuna and I told them all my Greenfish story. Just love it...thank you for great service. I will add a pic of the salad Nicoise that was on my menu tonight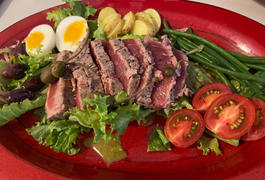 22/01/2021
Michelle B.

South Africa
PEREFECTION
Everytime we've ordered, we have only received the best of the best! The fresh Tuna is always incredible but the service is also hands down why we will continue to purchase and support GreenFish. Always spectacular service, going out of your way each and everytime with great fish - a winning combo! Thank you for going the extra mile for us, we love you guys.
21/01/2021
Blair T.

South Africa
Green Fish gets the Gold
An absolutely brilliant company from service to sustainability, quality to environmentalism. Thank you Ryan and team always!
11/01/2021
Graham F.

South Africa
Sushi Block perfection
The whole experience from start to finish was exceptional. Easy ordering, quick delivery and the tuna was definitely sushi grade. The tuna was very fresh and visibly appealing and tasted incredible. We initially made sashimi and gorged ourselves for days and we were able to save the remaining sushi for a seared tuna salad. 5 stars!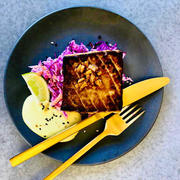 29/12/2020
Tracy M.

South Africa
Tuna and Sushi-making Kit
I ordered this as a gift and the recipients were thrilled. The kit has every ingredient you might need for sushi making and Asian cooking, and the tuna was a lovely treat. Service was prompt and efficient, too. Great to be able to get fresh fish delivered to your home like this.
23/12/2020
Shaun S.

South Africa
Amazing tuna
Ordering was super easy, delivery within 24 hours. Beautiful piece of tuna, definitely sushi grade! Had to try the fishwife Poke bowl first, absolutely devine. I will most certainly order again and have already referred a number of colleagues. Thank you!
22/12/2020
Shaun R.

South Africa
Tuna
For the most part the tuna was 'blood red', and perfect. Just a little sinewy and pale pink on the thin end
AM
19/12/2020
Andrea M.

South Africa
Worth the money.
Firstly, I am very impressed with the fast delivery, you emailed to let me know the package was on it's way meanwhile it was already delivered. Secondly, I did not expect this block to be so big; I cut mine into smaller steaks and freaked it. I am completely impressed and would advice anyone to buy from Greenfish.
15/12/2020
Elize

South Africa
MELT IN THE MOUTH
Great experience helpful friendly efficient. The Tuna melted in your mouth Fresh delicious amazing.
13/12/2020
Peter T.

South Africa
Tuna Sushi Block
Exceptionally good service. Delivered promptly and safely. Very happy with the quality of the tuna as well. Fresh and tasty. Highly recommended.
10/12/2020
Walter V.

South Africa
Tuna Sushi Block
Beautiful piece of tuna!! Speedy delivery : Excellent Service
17/11/2020
Shaun K.

South Africa
Tuna Order feedback
Very nice. Fresh. Better than expected. Thanks for the prompt service. Regards Shaun
AL
11/11/2020
Andrew L.

South Africa
Exceptional quality
I've tried other online fishmongers in Cape Town, and Green Fish is the best, and the quality of this tuna was superb. I've found my only provider of sea food - a provider who cares about their clients, and cares about the sustainability of there exceptional wild product.
06/11/2020
Kate M.

South Africa
Fantastic from start to finish
The whole process was seamless. Ordering online was super easy, and I really like the note about where the fish was caught (local is lekker). Knowing that I would get my delivery the next day (I ordered the night before) made meal planning easy. We had sashimi, tuna tartare and seared tuna - all our faves in one go! Fish quality was excellent!
03/11/2020
Angie L.

South Africa
Tuna review
Really enjoyed the fish and look forward to ordering something different next time.
28/10/2020
Kobus

South Africa
Hooked!
Every order from you guys are amazing!
22/10/2020
James B.

South Africa
Sushi Block was Brilliant!
I Loved the sushi block - I made an Asian tuna tartare and other family members pan seared it. Its a big piece of fish - will easily feed about 8 adults and brilliant fresh quality. I will definitely be ordering again. Two thumbs up.
20/10/2020
Irene T.

South Africa
Sushi block tuna
Very Good And very quick delivery. Thank you
20/10/2020
Bertus E.

South Africa
Freshest Fish to be found
A true gem to be found in Cape Town. Exceptional service and the freshest fish to be found. Will most certainly make use of your services again.