Greenfish Box | Duo
Regular price
R549
R0
Unit price
per
Content
This fish box features 6 different fish carefully selected, prepared and frozen for you to enjoy with your family or friends.
Marlin (2 x steaks)
Kingklip (2 x portions or 1 x Fillet)
Dorado (2 x portions)
Sea Bass (1 x fillet

~

360-400g)
Hake 

(2 x portions

 or 1 x Fillet

)
Butterfish (2 x portions)


This box is ideal for any fish lover to add some variety into their week day cooking. We have taken care of the mess, you look after the rest. Your fish will arrive in individual vacuum packs, to make it easy to use at home.  

Instructions:
Your box will arrive frozen, simply store in your freezer (up to 3 months) and use at your leisure. It is best to remove product from packaging to defrost (do not thaw under vacuum/pressure), simply place on a tray in your fridge and allow to thaw slowly. 

For easy recipes and more information on how to prepare the fish, please visit our partner site fishwife.co.za

Notes/Special Requests:
When you check out there is a section for notes, here you can tell us if you have any special requests for the cutting of your fish.  This is also a great place to tell us if your door bell does not work or any other info you want to share with us to streamline getting you the freshest fish in town to your door quickly.
Delivery:
R50.00 for all zoned areas 
CBD | Southern Suburbs | Houtbay | Platterkloof 

Delivery: Monday to Friday (Same Day Delivery)

Order before 11am and receive your delivery the same day.

Order after 11am and receive your delivery the following day.
Deep South | Tableview | Blouberg | Melkbos | Durbanville | Stellenbosch | Somerset West | Franshoek | Paarl | Surroundings
Delivery: Monday | Tuesday to Friday
Order before 3pm and receive your delivery the following day.
  https://greenfish.co.za/pages/where-we-deliver, 
*portion size is based on a +-200g per portion/steak unless otherwise stated 
Customer Reviews
Write a Review
Ask a Question
13/05/2020
Marilyn R.
South Africa
Greenfish is amazing!
I ordered my box late one afternoon and it arrived (in the Winelands) the next morning! The fish is beautifully cleaned and packaged and is if superb quality!
12/05/2020
Colin N.
South Africa
Great selection of fish and eccellent service.
Our first order and both the product and service were top notch. This will certainly not be our last purchase, you have a commited customer.
11/05/2020
Charles A.
South Africa
Amazing on time delivery
I ordered at 1pm on Friday, and at 3:30pm the motor-bike delivery dropped of the perfectly wrapped (and cold - with a plastic wrapped ice brick) tuna steaks ready for the braai!
08/05/2020
Carol R.
South Africa
Outstanding
Delivery was super fast. Beautifully packaged and Labeled. Just pop in the freezer. Have only cooked the hake so far - best I've had in years and years. So fresh tasting and really enjoyed it. I believe the other fish will be excellent too.
04/05/2020
Martin G.
South Africa
Fantastic service and amazing fish
This was our first, but certainly not our last order, from Greenfish - delivered the same day and fantastic fish. Highly recommended.
28/04/2020
Ametje R.
South Africa
Excellent service and experience Thank yoU!
Excellent service and experience Thank yoU!
25/04/2020
Philip M.
South Africa
Update... amazing hake
To add to my previous review I just want to say I have now cooked the hake from my Duo box. Best hake ever!! Seriously, the fillets were so firm and fresh once defrosted that they were hands down better than any supposedly never-frozen I have ever eaten. I will spare you an update each time I try another fish from the pack - but I have high expectations given the quality of the hake.
24/04/2020
Luke M.
South Africa
The fastest delivery of freshness
Amazing. Ordered the package here in kommetjie at 11am. At around 2pm the delivery was here at my door. Wow! And such a good and fresh taste! Just awesome!!
24/04/2020
Elza J.
South Africa
Awesome
I'm really pleased! I ordered the fish just after 11 and it arrived the same day with a very friendly driver. The portions look very good (I was worried it would be a bit small but I think its perfect). The price is reasonable given some of the fish maybe a bit cheaper and some a bit more expensive. We generally only buy fish from a premium supermarket as I've found it is sealed well but yours don't smell either (I just gave the outside a wipe down). I have told my friends and family about you too, although some of them are further out and maybe not in the delivery areas.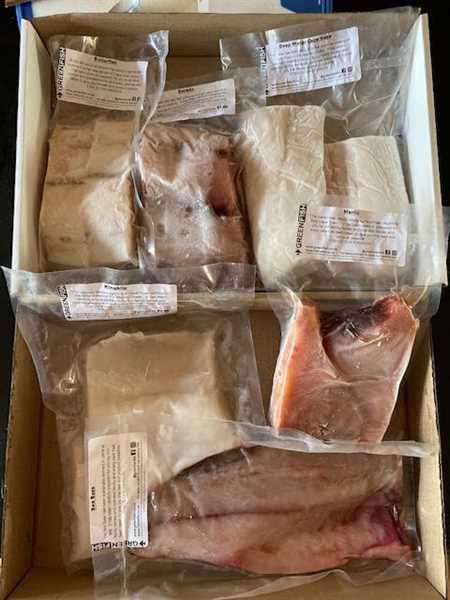 24/04/2020
Robyn H.
South Africa
WOW, that was fast!
Okay, I'll be honest - I haven't eaten the fish yet. But it looks great! That was also the single fastest delivery I have ever had in Cape Town - I ordered late afternoon, so I only expected it the next day - but it arrived within 40 minutes!